Do you live on the Central Coast and like to skateboard? Well, if you said yes to both questions, consider coming into California Kiteboarding, LLC to purchase a new Landyachtz longboard. Our shop is located at 695 Price Street Suite 103 in Pismo Beach and right now we have about seven complete Landyachtz longboards in stock.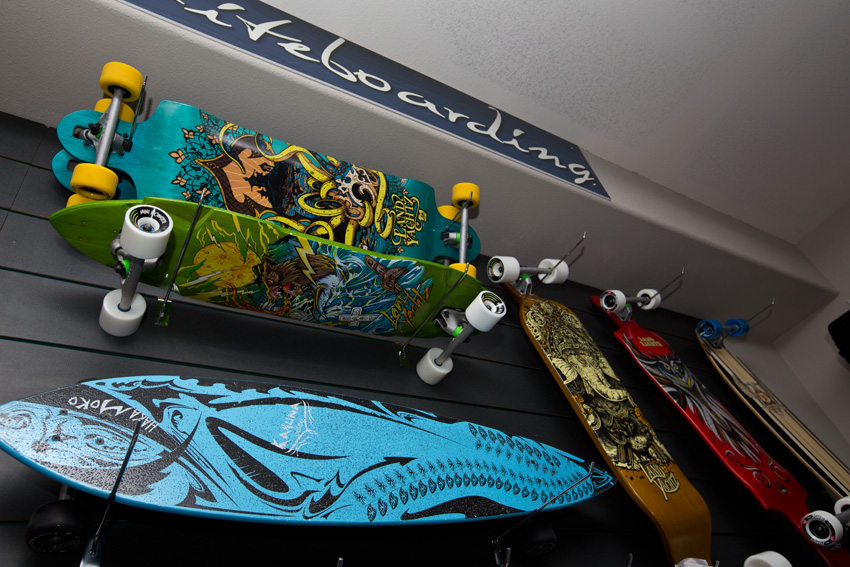 The Bamboo Pinner, is made from 100% bamboo, making it light weight and giving it a smooth responsive flex. The complete longboard is currently set up with Grizzly 852 Trucks, 76mm Monster Hawgs, 1/4 risers and LY abec7 bearings. The Tomahawk has a slightly dropped platform and is perfectly designed for freeriders. This board is ideal for those looking to get a taste of it all. The complete board comes with 70mm Mini Zombies, Grizzly 852 trucks and abec 7 Bear bearings. Another great board in stock is called The Evo. It was designed by a world champion to be the ultimate race board and has won more races in the past 5 years than any other board in the world. The complete board comes with Grizzly 852 Trucks, 76mm Monsters and LY abec 7 bearings.
We also have various sizes of the Switchblade longboards by Landyachtz. The Switchblade 36 and Switchblade 40 have what beginners and experienced riders are looking for. If you're a beginner, this ultra-low ride will get you around the city. If you're an experienced rider aspiring to be one of the best in the world; the switchblade is the weapon you're going to want to bring to battle. The Wolf Shark is designed for freeride and downhill, with an entirely new shape and graphic. The complete board comes complete with 70mm Mini Monster wheels, Bear 852 trucks and Abec 7 Bear bearings. The Landyachtz, Battle Axe, is great for riders of any skill level. It's drop thru mounting makes it stable at speed, predictable when drifting, and lower to the ground for ease of push. If any of these boards sound like they may be the one for you, stop by our shop and take a look.
–Epic boards for epic riders.