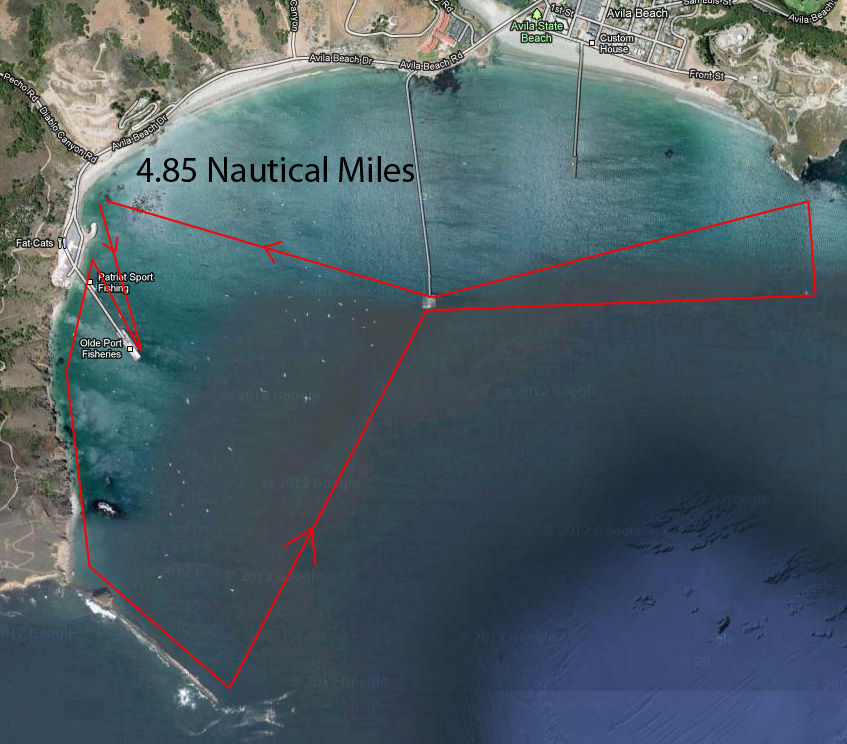 Jason Lee and John McMasters had little time to make it to a 2012 Superbowl party. So, they had to make a quick 4.85 Nautical mile paddle (5.58 Miles). The weather was 75 degress in Avila Beach, perfect for Winter in California, so a wetsuit wasn't necessary. McMasters was riding the
2012 Bark Dominator
, while Lee was riding the
2012 Jamie Mitchel by Birse
. McMasters and Lee headed toward the end of the pier for a quick warm up as they waited for their third paddler, Eric Zino. Zino just bought the
2012 Larid Bark 14ft.
Unfortunately, he didn't show up so they continued on their mission without him. The water was glassy, but there was some backwash created from the large Northwest swell. Lee charged to the point where he turned to see McMasters trailing behind. Lee felt that the
Navigator
was pretty fast, so McMasters had to be trailing behind him. Lee would have kept his hair dry for the entire paddle, but was blindsided by a small wave. The wave sent him overboard and Lee dunked into the ocean. He didn't seem bothered by the dunk when he poked his head out of the water and said, "I'm not upset, it's a bit refreshing." The two continued toward the Poly Pier following a pod of dolphins. They hoped to see another grey whale, like the one that was spoted last October in Avila. At the time of the spotting, Lee was paddling with Dana MacGreagor and was about 50 ft away from the gray whale!
The
gray whale
is a great migrator, that can travel 12,430 miles from Southern Alaska to warmer waters. They often have parasites on them, which make their back and snouts look like a crusted ocean rock. It is interesting to note, gray whales were almost extinct due to extensive hunting. But, they are protected by international law today.
After talking about the gray whale they paddled from Poly Pier to Avila Rock. This was very challenging because the current swell was perpendicular to their direction of travel so it made it difficult to track. But, they had to keep paddling on one side. As they rounded Avila Rock they were relieved to paddle on their starboard side.
It was a short paddle, but they made good time and kept a very good rythm. McMasters likes to long paddle on the
Bark 14ft Dominator
since he used to be on the Avila Outrigger race team. McMasters has dedicated a lot of time and training to be on the race team. He is also a great instructor because of this experience. If you are interested in racing or training please contact Jason Lee or John McMasters.