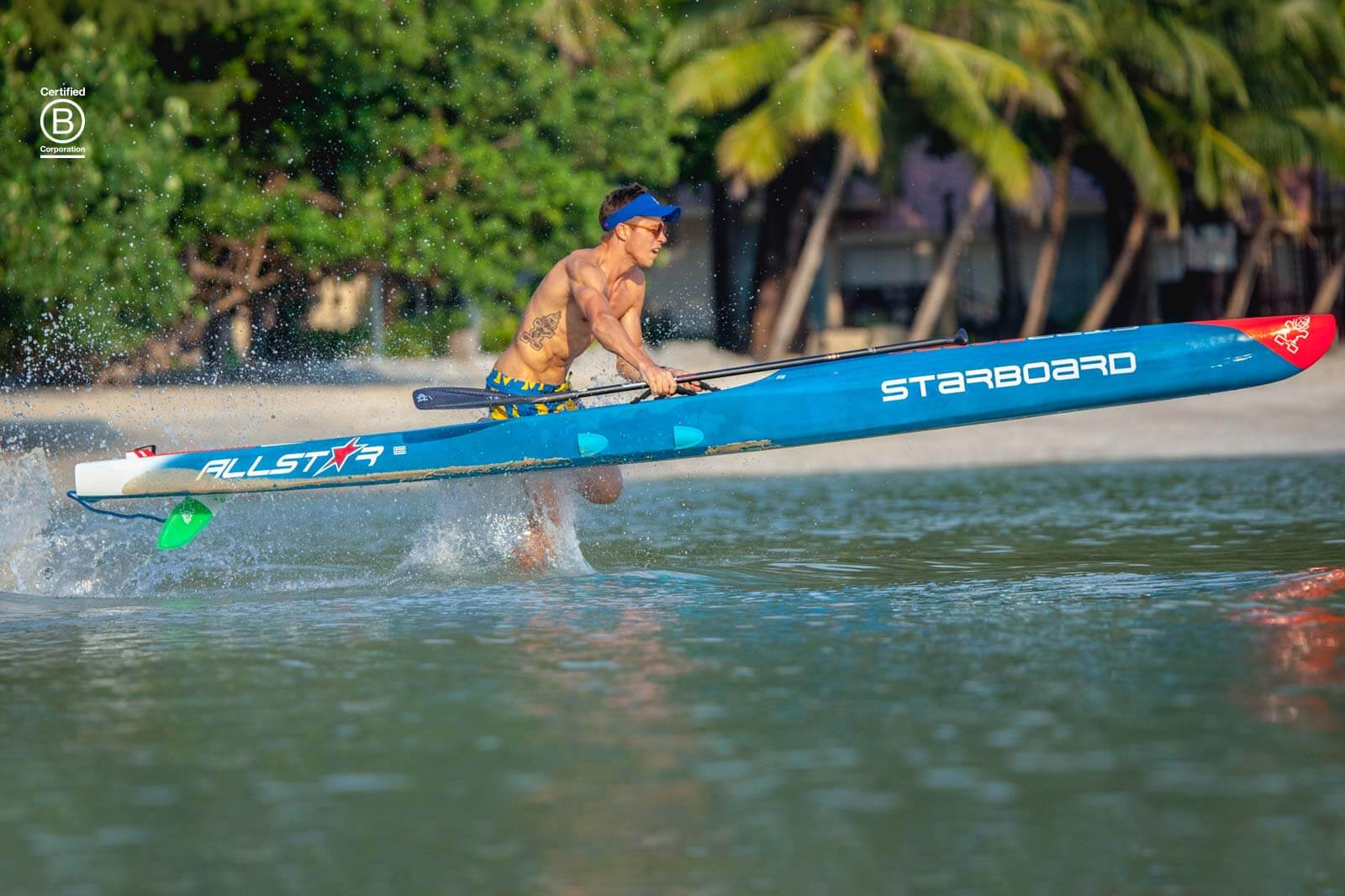 All Star
One Board, All Conditions
10 x CLIMATE POSITIVE
From entry-level riders to elite racers, the All Star is the world's most winning, versatile and user-friendly race paddle board design.
The All Star comes in sizes for all rider weights and skill levels. The 24.5" and wider are suited for heavier riders, while the 23" and the new 21.75" are for higher-skilled and lighter riders.
ULTRA STABLE, HIGH-PERFORMANCE RACE SHAPES DESIGNED BY WORLD-CLASS ATHLETES

YOU RIDE WHAT OUR PRO'S RIDE

All our Starboard team riders' race and win on production boards from our own moulds.

 

NEW NARROWER OUTLINE

New narrower 21.75" is the fastest model for highly skilled & lighter riders, with comparable and even more stability than its predecessor – the 22.5".
NEW

NARROWER & SHARPER VEE NOSE

Slices through the water with a cleaner entry, increasing acceleration and glide.

NEW

LOWER ROUND VEE BOTTOM

The center vee height has been lowered, creating a flatter overall bottom shape. This reduces the roll from side to side, increasing overall control, tracking and stability.

NEW

REFINED STANDING AREA THICKNESS

Limits water entering and helps water flush out quickly.

NEW

SOFTER RAIL EDGE AT THE TAIL

Increases overall glide and is more maneuverable to change direction and steer the board downwind.

SUPER EFFICIENT DRAINAGE

4 drainage holes help flush water out of the standing area as quickly as possible.

DRAIN COVERS FOR FASTER RELEASE

Stick on drain covers reduces water entering the standing tray, creates suction to remove any water inside, and has a smooth release when paddling. ⓘ We recommend using the drain covers to match the given rider weight.
• Provides greater float and lift in flat water, allowing for faster acceleration.

• Gives greater buoyancy and lift upwind and prevents nose-diving when paddling downwind.

• The pop and release allow the rider to maintain glide with a steady cadence.
NARROW TAIL FOR SPEED

Increases acceleration and glide, helps lift the nose over swell upwind, is more reactive to turn direction downwind and easier to sink for bouy turns.

WIDE CHAMFERED RAIL

Reduces the planing surface by nearly 20%, increasing the glide and overall speed.

CONCAVE SIDE PLANE

Provides stability, acting like stabilisers similar to a trimaran.

BOXY STRAIGHT RAILS

Optimizes the outline to provide more pop from the increased side volume, stability is further improved, and rolling reduced.

MULTIPLE HANDLE POSITIONS

Allows you to customise the handle placement for beach starts. * We use screw M6x25 and washer STL 6.4×1.7

FIN TIPS

• A longer center fin like the Race Ultra will provide greater stability and tracking in flat • A smaller fin like the Natural Winner will deliver more downwind maneuverability.

 
 

NEW

SELF-VENTILATING VALVE

A self-ventilating air valve is available on the board. This valve is self-ventilating so, it should not be touched or removed – otherwise, you are at risk of damaging the valve system.