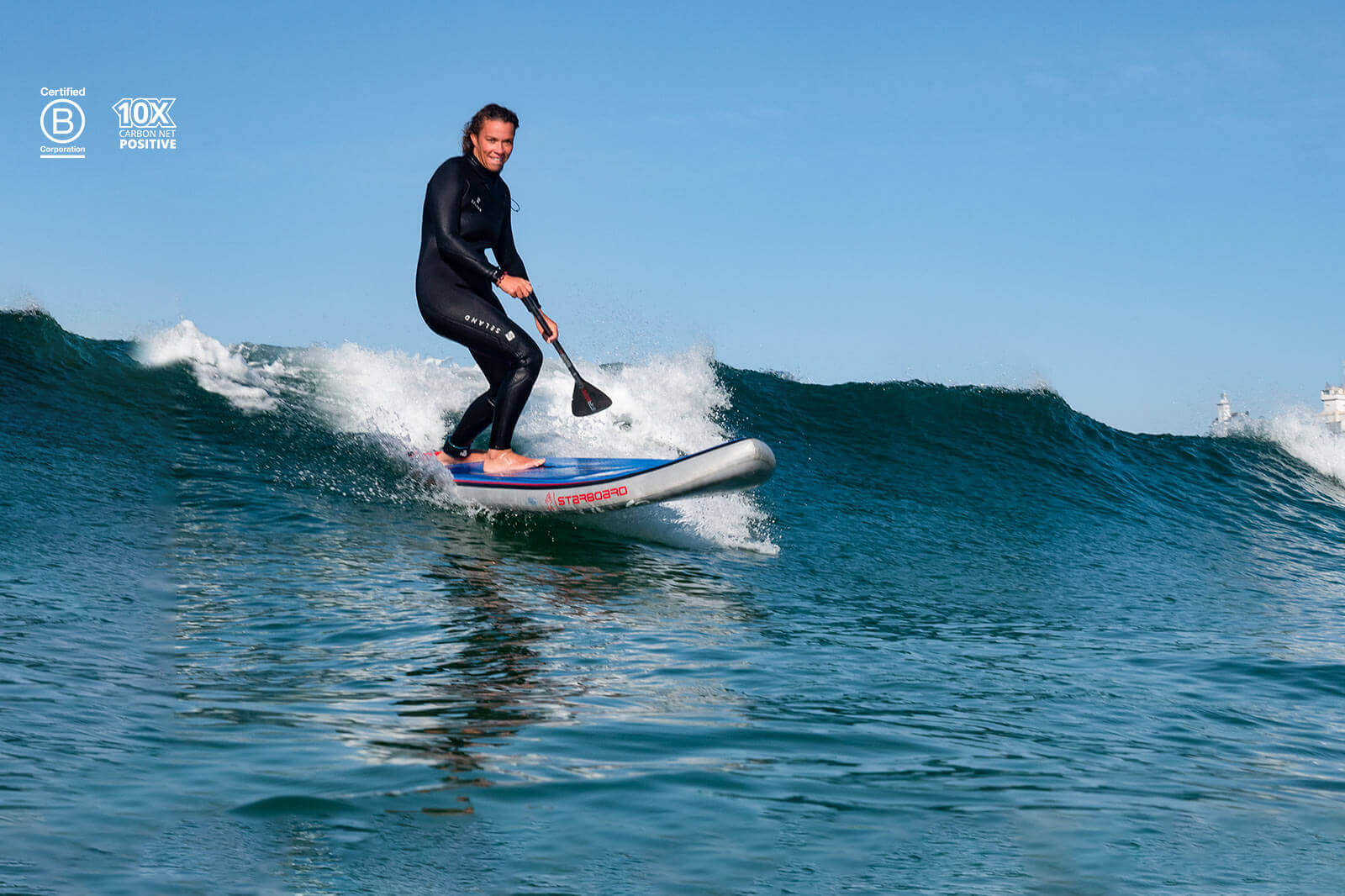 SURF INFLATABLE
A PADDLE BOARD DEDICATED TO SURF
We just pumped up the action with our inflatable surf paddle boards. We've introduced Woven Fusion Technology and Double Chamber Construction, maximizing stiffness and getting that hardboard feel.
Based on our classic surf composite outline, the narrow nose does not get caught through turns, the wide standing area gives stability and pulled in tail makes for reactive turning.
GET TO EVERY BREAK WITH YOUR BOARD ON YOUR BACK!

WELDED RAIL TECHNOLOGY

Every Starboard inflatable paddle board features welded rails.

The Welded Rail Technology creates a complete airtight, mechanically bonded seam without the risk of glue weakening over time. This makes Starboard inflatable paddle boards stronger and longer lasting.

RIGID FEELING

Double chamber construction increases overall stiffness helping to generate more power and response in turns.
The chamber is positioned in front of the centre to control the shape and keep the nose from flexing.
THE SHAPE

9'5″ x 32″ Surf is inspired by our best selling surf composite model.

CURVED ROCKER LINE

Large nose rocker limits the nose diving and catching during turns.
Tail kick helps to lift the nose during turns and change direction with ease.

THINNER RAILS

Built in 4.75″ thickness provides better control and maneuverability.

DIAMOND GROOVED EVA PAD

Diamond grooved deck pad provides comfortable grip and control.
Tail kick pad with raised kicker to push through turns.

FINS SET UP

Fins are positioned close to the rail for the quickest response and control when turning.
Thruster set up include 1 centre fin and 2 side fins. Thruster are more predictable and controlled in manoeuvres.

TIKI PUMP

FAST, EASY, AND COMFORTABLE

Fixed hose and manometer position when inflating.
10% more efficient thanks to the redesigned piston and outside tube for the air outlet. Plus, double and single action pumping modes and wider removable foot base increases stability when pumping.
The base and handle are made from upcycled fishing nets.

RE-COVER BAG

LIGHT, STRONG, LARGE

Is designed to minimize weight, yet maximize comfort and strength.
Roller wheels available on every bag make it more comfortable for a long walk.
Hiking strap is ergonomically curved to ensure good stability on the shoulders.