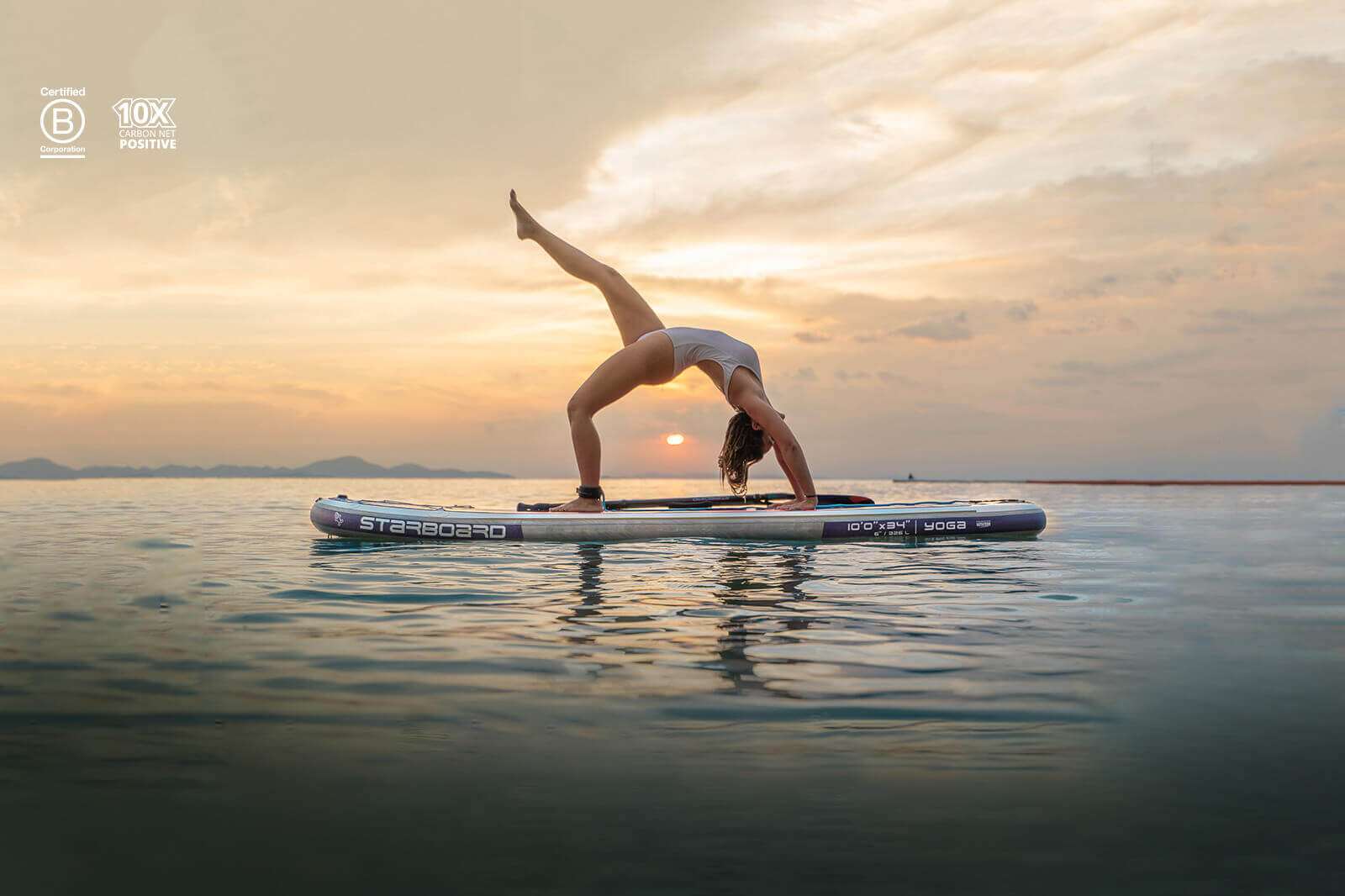 YOGA INFLATABLE
TUNE IN TO YOUR BOARD AND BODY
10'0″ x 34″
The Yoga paddleboard is stable and wide enough for progressive yoga poses. The parallel rails make it easier to keep the paddle straight to the board for improved tracking. The wider nose and tail create a more parallel outline, which makes it smoother to transition into poses with the same stability. The board also comes with a shoulder carry strap that makes it easier and more comfortable to carry the board around, while freeing your hands, allowing the board to carry your paddle for you. The mid-carry handle is flat making it comfortable for all Yoga poses.
The 10'0″ Yoga Inflatable Paddle Board is the perfect SUP yoga platform from entry-level to expert. The hull glides nicely and is really easy to maneuver, a true all-rounder.
DOING A HEADSTAND ON WATER.

WELDED RAIL TECHNOLOGY

Every Starboard inflatable paddle board features welded rails.

The Welded Rail Technology creates a complete airtight, mechanically bonded seam without the risk of glue weakening over time. This makes Starboard inflatable paddle boards stronger and longer lasting.

6" THICKNESS

Provides floatation and stability for all rider weights.
Maintains stiffness and rigidity for when transitioning between yoga poses.
Limits water wrapping onto the deck, ensuring you and your gear stay dry.
BUNGEE TIE DOWN

For storing gear and supplies.
The bungee is attached with 4 D-rings which can be used to clip on your bags and gear.

2IN1 SHOULDER CARRY STRAP

& PADDLE HOLDER

Velcro loops to attach your paddle.
Easier to carry as the board simply hangs effortlessly on the shoulder and frees up your hand to multi-task, hold your coffee, or phone.
When not in use, the strap sits flat on the board so it doesn't drag in the water.

D-RINGS

D-rings are distributed on the rails, nose and tail of the board for attaching to friends, swimming pool lanes and for anchoring.

FCS INSERT

On the nose to attach accessories like a GoPro, phone holder, compass or GPS
STAR Mount supplied with every board to attach further accessories.

V8 PUMP

DOUBLE ACTION

Inflate your board faster and easier with continuous pumping cycles in both downward and upward action.
With a switch, the double action becomes single action for easy inflation to 15-18 PSI. Comes with the Tiki Gauge to know your inflatable board's pressure.

FIN SET UP

Tri-fin set up with fixed hard fins that requires no tools. Just pump it up and get on the water.

FREE LIGHTWEIGHT LEASH

At only 70g, the leash is incredibly light.
Soft cushioning means it will flatten when stood on.
Easy to attach to the leash ring without needing any excess rope loop.

RE-COVER BAG

LIGHT, STRONG, LARGE

Is designed to minimize weight, yet maximize comfort and strength.
Roller wheels available on every bag make it more comfortable for a long walk. • Hiking strap is ergonomically curved to ensure good stability on the shoulders.