Nugget
Designed out of the need for a true high end, high speed, wing specific boost board, The Nugget lives up to its name as a compact board that is full of rich design details to elevate your wing game to the next level. Whether its 10 feet in the air or downwinding a high speed hood river wave section, The Nugget is a sinker style wing board that has minimal swing weight and unique bottom designed for speed and friction free release. If you are you ready to boost your wing game, you're ready for The Nugget!
Features:
Slight Single Concave Nose to Flat Bottom
Progressive Chined rails to Diamond Tail
Forward Volume
Enhanced Nose Rocker
Proprietary FFB 13″ Mounting Tracks
Pressure Relief Air Vent
Extra Foot Strap Inserts
| Length (ft/in) | Width (in) | Thickness (in) | Volume (L) |
| --- | --- | --- | --- |
| 4'1″ | 20.25″ | 3.1″ | 35L |
| 4'4″ | 20.5″ | 3.3″ | 40L |
| 4'7″ | 21″ | 3.5″ | 45L |
| 4'10" | 21.25″ | 3.6″ | 50L |
Slight Single Concave Nose to Flat Bottom

Assists with speed and release

Progressive Chined rails to Diamond Tail

Minimizes friction to assist in Take Offs

Forward Volume

Improves Stability on landings

Enhanced Nose Rocker

Helps bounce and reflect on touch downs
FFB BOARD CONSTRUCTION
There have been no corners cut when it come to the construction of all Freedom Foil Boards. With the highest quality materials and manufacturing process, our boards are some of the lightest on the market while being reliable ride after ride.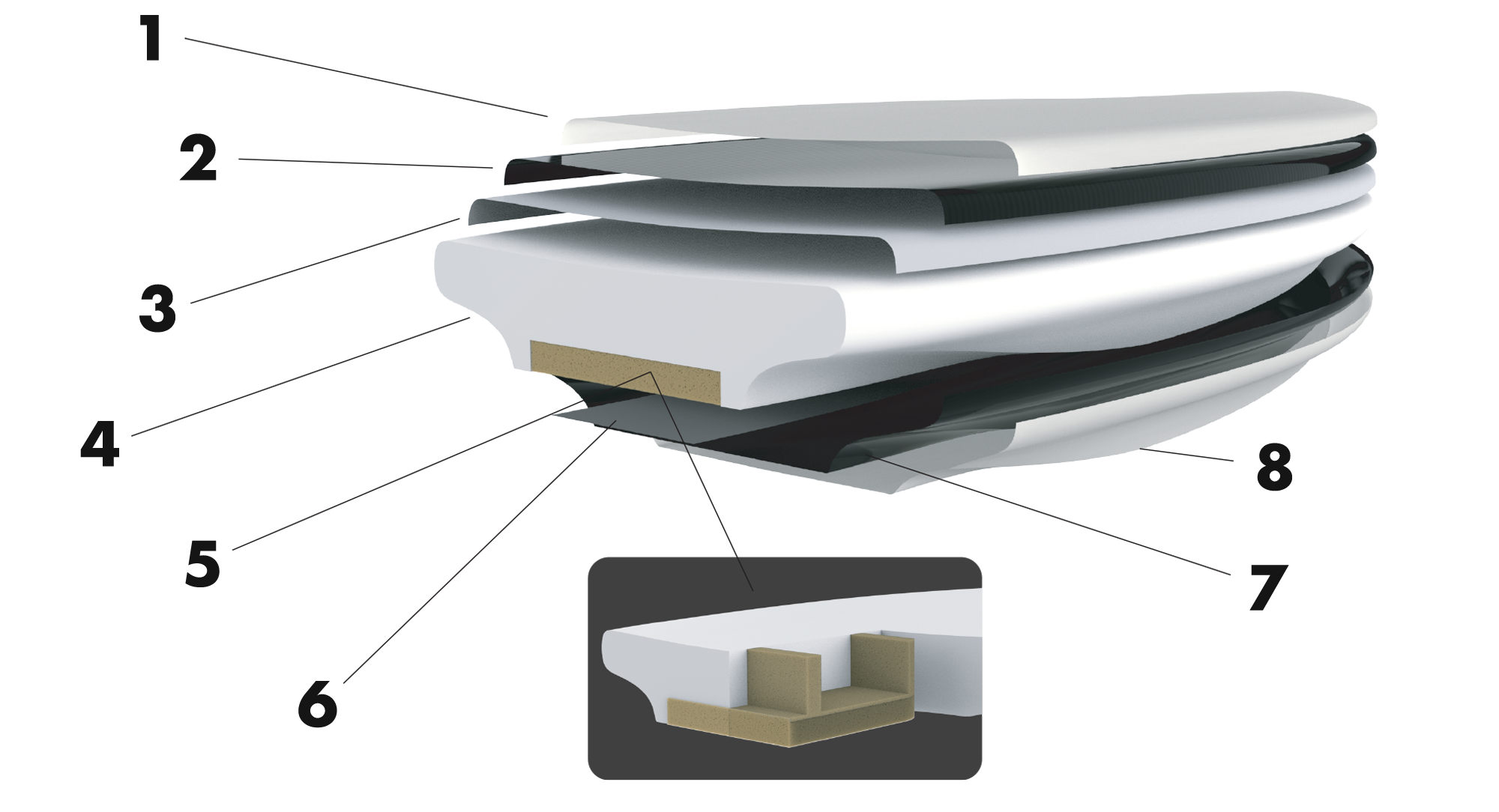 E Glass – Protective layer over paint and carbon
Carbon Double Bias – High Grade Woven Carbon with extra fibers running in the longitudinal axis
S Glass – Impact resistant layer of fiberglass to distribute loading from heels, hard landings, ect.
EPS – Lightweight stringer less foam core
High Density Foam Block – High Density Foam block to reinforce and keep foil tracks secure and in place
Carbon Uni Directional – Uni directional strip of carbon to increase stiffness and response as well as reinforce the foil track
Carbon Double Bias
E Glass