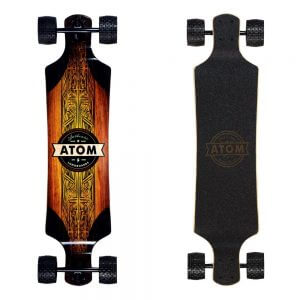 Atom 39" All-Terrain Drop Deck Longboard
$

149.95
Whether you're a seasoned longboarder looking for a new challenge, a beginner looking for a board that will roll over anything, or a campus cruiser who just doesn't feel like walking when the pavement ends and dirt begins, the Atom all-terrain longboard will get you where you need to go and turn a few heads along the way. Don't be fooled by look alikes – genuine MBS AT 100mm wheels are the only all-terrain wheels that use top-notch Super High Rebound urethane which means they're as fast on road as they are awesome off-road.
MBS 39" All-Terrain Drop Deck Longboard
$

159.95
The MBS All-Terrain Longboard opens up a new world for longboarders, the one just off the beaten asphalt path. Its super high rebound 100mm treaded longboard wheels make it the perfect addition to any longboarder's quiver.