The Swell 2.0 is designed to prepare you for everything life throws at you. Use the extended roller in both heel-toe and left to right positions for 2 distinct ways to train your balance. The Magswitch roller stops adjust in seconds to change difficulty, and are easily removed for even more challenge.
Drastically Improve Your Skills, Year Round

The Revbalance Swell 2.0 is designed to improve your flow and prepare you for moments out on the water that require your entire body to be working in unison. You can't always make it out for a shred session, but with a Swell in your living room you know you will always be ready.
Who Is The Swell 2.0 For?
The Revbalance Swell 2.0 is designed for both watersports experts and beginners. The balance and coordination skills learned by using the Swell 2.0 translate to real improvements out on the water. Surfers, paddleboarders, wakesurfers, kiteboarders, wakeboarders, and longboarders all love to use the Swell for boosting their skills, and for off season training.
Don't worry, even if you're not a watersports champion, the Swell allows you to start slow and work your way up to balance mastery.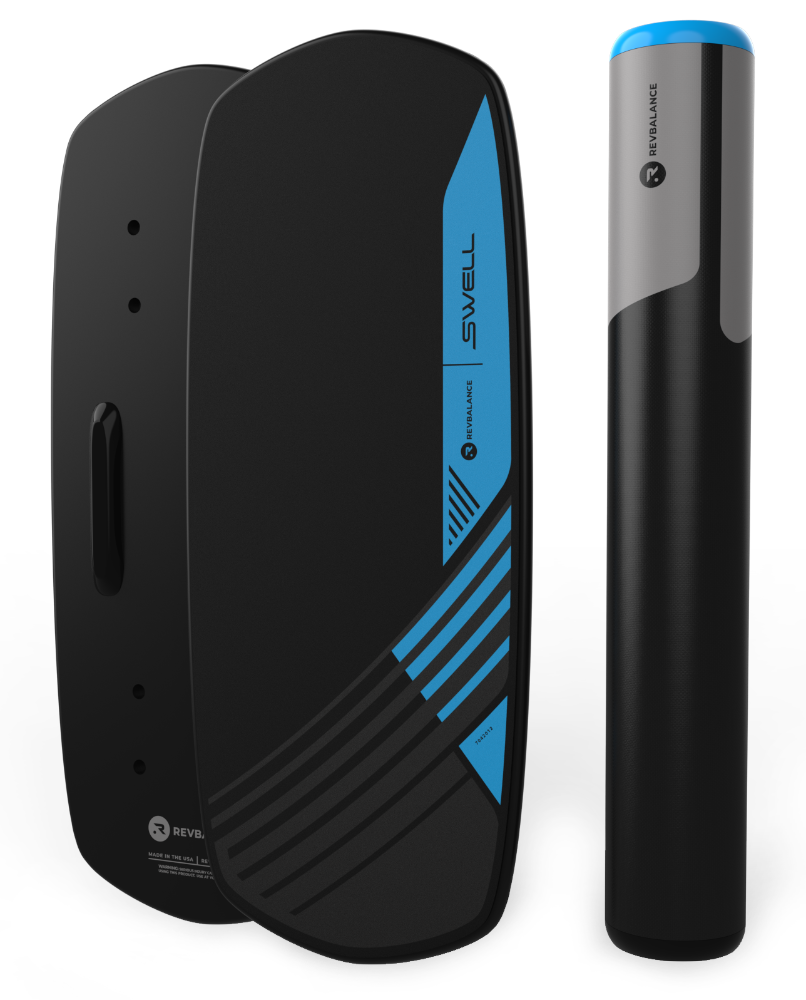 | | | | |
| --- | --- | --- | --- |
| MAGSWITCH | BIDIRECTIONAL | DURASOFT | TOUGHLITE |
| Magnetic adjustable roller stop system to easily change difficulty on the fly. | Extended length roller can be used in any direction for more challenge and variation. | Comfortable and super durable soft grip surface, usable with or without shoes. | Premium reinforced construction minus the extra weight. Proudly made in the USA. |
The roller stops on the base of the Swell 2.0 are easy to adjust to any position in seconds. Held in place by a super strong magnet system, beginners can start slow by setting a shorter rolling distance, and work their way up to more difficulty. Seasoned riders can step up the challenge even more by removing the stops, no tools required.

Adjust Difficulty In Seconds

The Swell 2.0 is all about versatility and allowing you to improve your balance in a variety of ways. The Magswitch stop system makes changing from left-to-right balancing to the more difficult heel-to-toe direction quick and easy. This translates to more improvement for your skills out on the water!
| | | |
| --- | --- | --- |
| | The comfortable grip surface on the Swell gives you the perfect feel, grip, and cushioning. Great for using with bare feet but more than tough enough to use with your shoes. No scratching you or any of your stuff like regular griptape you see on other boards. | |