WING-SURFING/FOIL SURF
SIZES: 40 | 50 | 60 | 75 | 85 | 95 | 110 | 125 | 140
Our last generation Hover Wing Foil instantly set the standard in design, construction, and weight for the category. This new range of boards is perfectly suited for wing surfing, or to be used as a SUP foil board, SUP downwind foil board or prone foil surf. Changes to this updated model include a more overall rail curve in the outline, slightly narrower tails, increased nose rocker, and more pronounced bottom shaping and concave. Multiple foot strap insert positions, including wider stance options, give riders the opportunity to choose between a windsurfing style, double front strap setup, or a single surf style setup. The rocker is perfectly balanced so the board flies smoothly parallel to the water surface. Track boxes have been moved further back to better match with the multitude of different foils that riders may pair with the boards. The increased tail kick behind foil boxes combined with the beveled rail guarantees easy take odds and sufficient clearance in turns.
The carbon ultra layup, which now includes extra rail cap reinforcements and Kevlar patches when in high-stress areas gives these boards the lightweight edge minimizing swing weight and enhancing overall performance.
3K CARBON/WOOD CNC EPS CORE CONSTRUCTION
Lightweight CNC cut EPS core
High density deck-to-bottom foil track system with carbon reinforcement
Full 3K carbon deck with wood sandwich and double wood in the stance area
3K carbon reinforced wood sandwich bottom
Kevlar reinforced rails
Carbon strip bottom stringer
EVA DECK
Diamond diecut EVA pad with micro dot embossing
Back foot arch support
Beveled tail kick area
FOOTSTRAP INSERT LAYOUT
Minimum stance width widened by 5 cm
6 hole inserts for front strap positions
Layout allows for dual strap setup (back strap straight – front strap angled for goofy or regular stance)
Windsurf style 3 strap setup
Front: parallel double strap setup
FEATURES FOR S26
Due to their higher volume-to-length ratio and the option to ride with straps, the 40, 50 and 60 liter boards have gained in popularity. Those sizes have been fine-tuned to be used for both Wing-Suring and surf foiling. The foil track boxes and the tail kick were moved 1.5 inches towards the tail to increase options for lighter riders mounting their foils for surf foiling.
All models have a decreased nose and tail width. This is more apparent on the smaller sizes up to the 95 and only sightly visible for sizes above 95. The result is reduced swing weight, benefiting its use with the Wing-surfer, especially in windier conditions.
The foil track positioning has been moved closer to the tail on all sizes. This adjustment is more significant on the smaller sizes than on the bigger sizes.
The tail kick was moved further back to align with the foil track boxes, lengthening the water line which results in earlier lift off.
The double concave nose shape was accentuated, softening re-entry when coming off the foil.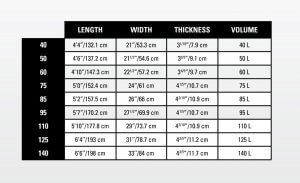 WAVE & DOWNWIND / JUMPING & FREESTYLE / FREERIDE
The new Unit will impress you from the first flight. Light, lifty and stable, yet incredibly easy to handle and control with our new rigid handles.
2.0, 2.5, 3.0, 3.5, 4.0, 4.5, 5.0, 5.5, 6.0, 6.5
KEY FEATURES
Duotone unit
Flies on the leash
Neutral and effortless on the wave – flies on the leash. The unit follows intuitive, light and stable when held on the front handle while surfing and during downwinders.
Great stability & upwind ability
The stable profile with moderate dihedral offers a great deal of draft stability, power generation and comfort through gusts and lulls, with excellent upwind ability.
Optimized window layout
Optimized window layout for safety and comfort with a reduction in weight. The new window position offers a better visibility and higher safety with reduced window area at the same time.
Positive lift
Positive lift – easy for tacks, lifty for jumps. The more segmented leading edge and panel layout allowed for optimized canopy tension and twist, resulting in positive lift even through gusts.
Rigid handles
Rigid handles for direct control. Our unique lightweight screwed-on handle solution offers boom-like comfort and control with direct steering and a grip range of 26cm per handle.
Tight canopy tension
Tight canopy tension and finely tuned wingspan. Slightly higher wing span adds higher drift stability, better power generation, lift and hang time in jumps.