Sky Wing
The Sky's the Limit
Sky Wing
Sizes: 4'6″ / 4'7″ / 4'8″ / 5'0″ / 5'2″ / 5'4″ / 5'6″ / 5'8″ / 6'3″
Our new range of Sky Wing models grows to nine dedicated shapes and takes efficiency to another level. Ride the smallest board possible in the lightest of winds!
If you thought the previous Sky Wing range was leading the way in Wing Foiling – try one of these hot new shapes and you'll be impressed how much of a change a board can make.
The range is split in three different directions, with the two smallest shapes of 4'6" and 4'7" being dedicated Prone/Wing advanced combo boards, with low volume, more radical bottom contours and all features needed to push the limits.
The Wing Allround range from 4'8" to 5'8" has its focus on the earliest take-off possible with minimal board size. Our shaper Sky Solbach combined the early planing rocker line of our previous 5'4" with a sharp release box rail and slight bevels in the nose section. The extra glide allowed to pull in tail and nose outline slightly to reduce catching in turns and on the wave. The clean approach with plenty of volume under your feet allows for an uninterrupted touch-down, which helps learners and hardcore freestylers alike – you just never get stuck!
The 6'3" is dedicated for everyone getting into Wing Foiling. The extra length and heaps of volume turns you into an addicted winger in no time! The 6'3" is also available in a Soft Top edition with a comfortable, durable and grippy full EVA deck and rail cover.
Once you've learned your first steps into this fascinating new discipline – the Sky Wing is exactly what you want! Much more compact than a SUP Foil board, yet still easy enough to start and get up and out of the water.
FOOTSTRAP OPTIONS
ULTRA-COMPACT SHAPE
FOIL SHAPE
DECK SHAPE
DECKPAD
BOTTOM SHAPE
SHORT LENGTH
TWO CARRY HANDLES
RIDE THE SMALEST BOARD POSSIBLE IN THE LIGHTEST OF THE WINDS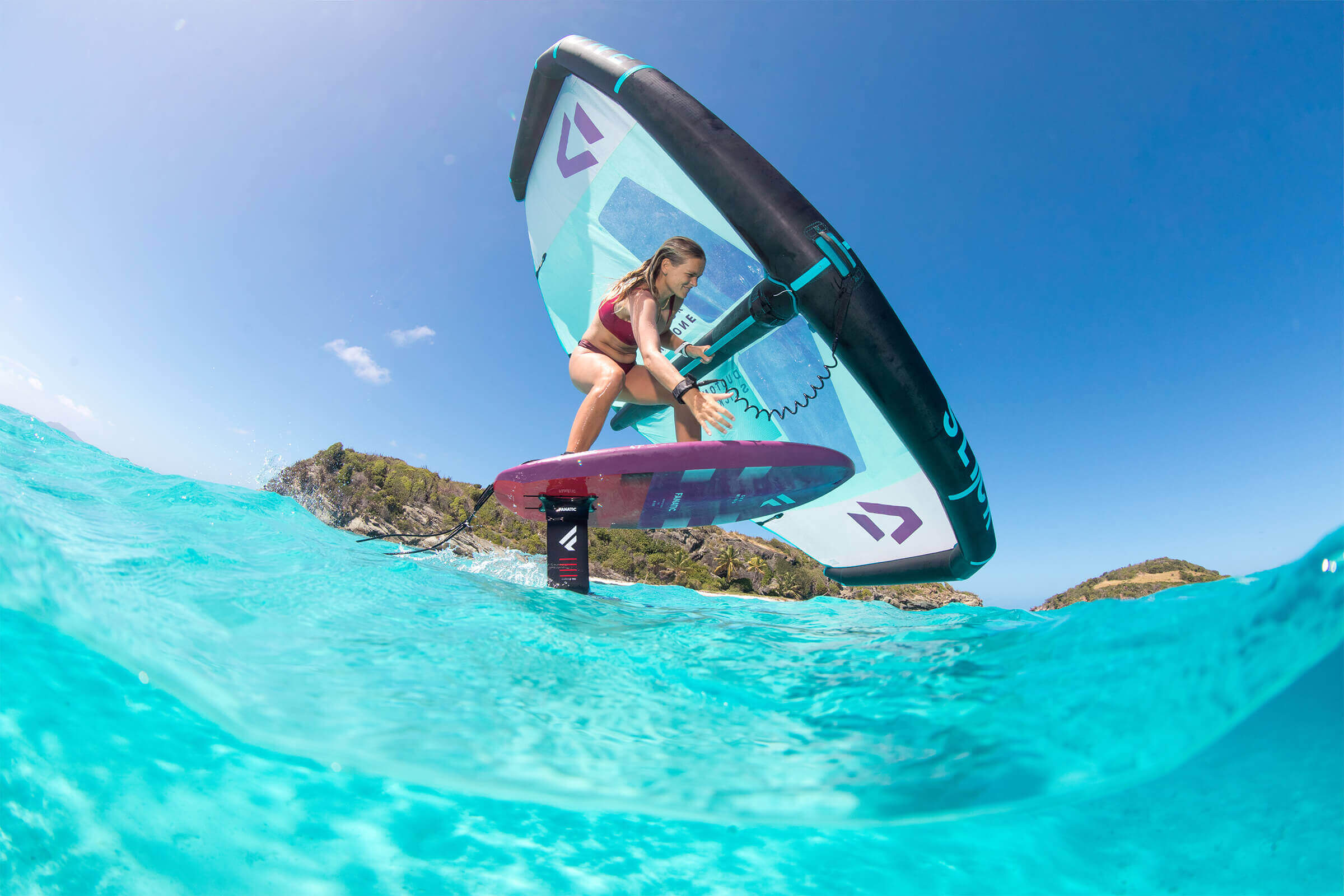 FEATURES
Sky Wing
New Shapes

9 new shapes for all riders and conditions

Rocker Line

Optimized rocker line and hard release edges for maximum glide and earliest take-off possible (sizes 4'8" and bigger)

Bottom Shape

Clean bottom contours with slightly rolled Vee in the nose section for uninterrupted touch-downs (sizes 4'8" and bigger)

Footstrap Options

Additional footstrap inserts for double front strap, single diagonal front strap or new straight single front strap

Stability

Double screw inserts for back strap

Pulled in nose

Pulled in nose and tail sections to reduce swing weight and avoid catching in tight turns and on the wave

Recessed deck

Recessed deck shape for comfort, control and a direct connection with the foil

Deck Pad

Full deck pad with tail kicker for grip, comfort and support behind your back foot during starts

Center line bumper

Center line bumper on sizes 5'6" and bigger

Comfort

Carrying handles on deck and bottom for easy transport with or without foil mounted

.

VEC

Lightweight Vacuum Epoxy Construction (VEC) with optimized layup and significantly reduced weight compared to previous models

Sizes 4'6" / 4'7" for Prone / advanced Wing

The two smallest shapes of 4'6" and 4'7" being dedicated Prone/Wing advanced combo boards, with low volume, more radical bottom contours and all features needed to push the limits
TECHNOLOGY
VEC – VACUUM EPOXY CONSTRUCTION
Our Vacuum Epoxy Construction comes in a complex multi-step vacuum process with reinforcement patches in key areas such as boxes, centre spine and a full bamboo patch in the entire stance area. The light yet strong construction comes with a hand sanded finish adding to the unique custom appeal of this technology. For 2022 we refined this layup with a lighter core and additional reinforcements in key areas for a strong construction with significantly lower weight.
Specs
| | | | | | | | | | |
| --- | --- | --- | --- | --- | --- | --- | --- | --- | --- |
| Board | Sky Wing 4'6″ | Sky Wing 4'7″ | Sky Wing 4'8″ | Sky Wing 5'0″ | Sky Wing 5'2″ | Sky Wing 5'4″ | Sky Wing 5'6″ | Sky Wing 5'8″ | Sky Wing 6'3″ |
| Volume | 35 l | 45 l | 60 l | 75 l | 85 l | 95 l | 105 l | 125 l | 140 l |
| Width | 20″ / 52 cm | 22″ / 56 cm | 22″ / 56 cm | 24″ / 61 cm | 25″ / 66 cm | 26″ / 66 cm | 27″ / 68.5 cm | 28″ / 71 cm | 30″ / 76 cm |
| Length | 4'6″ / 137 cm | 4'6″ / 137 cm | 4'7″ / 140 cm | 4'8″ / 142 cm | 5'0″ / 152 cm | 5'2″ / 157 cm | 5'6″ / 168 cm | 5'8″ / 173 cm | 6'3″ / 190 cm |
| Weight | TBA | TBA | TBA | TBA | TBA | TBA | TBA | TBA | TBA |
| Fittings | 2x US Foil Tracks | 2x US Foil Tracks | 2x US Foil Tracks | 2x US Foil Tracks | 2x US Foil Tracks | 2x US Foil Tracks | 2x US Foil Tracks | 2x US Foil Tracks | 2x US Foil Tracks |
| Rec. User Weight | >65 kg | <70 kg | <75 kg | 70-80 kg | 75-85 kg | >80 kg | >90 kg | >95 kg | > 100 kg |
| Mastfoot Insert | NO | NO | NO | NO | NO | NO | NO | NO | NO |
| Footstrap Options | 3 x Fanatic Premium | 3 x Fanatic Premium | 3 x Fanatic Premium | 3 x Fanatic Premium | 3 x Fanatic Premium | 3 x Fanatic Premium | 3 x Fanatic Premium | 3 x Fanatic Premium | 3 x Fanatic Premium |
ARTICLE NUMBER 13220-1128     
COLOR CODES     
COVERING ALL RIDER LEVELS AND CONDITIONS