?THE PADDLE BOARD FOR PERFORMANCE WHITEWATER SUP"
We?ve built a?paddle board?that?s ready to take on the?rivers?and rapids.
Enough tail kick to turn easy and plenty of nose kick to handle steep drops. When you go down the stream, you may hit some rocks and smash some boulders so, we have your board protected with double skin technology layer and an extra sturdy fixed long low profile middle fin, that will be happy to take some punishment. The FCS side fins, a standing tray for extra stability and multiple front position handles are great for that extra performance.
NEW?TRACK & SLIDE CENTER FIN
? The new Track&Slide center fin for river boards has a lower angle of attack and a longer surface, which enables a more steady and easy ride over the rocks.
? Its thick profile makes it more resistant against boulder smashes. And thanks to its long profile it is easier to track the board down the stream whilst sill being maneuverable.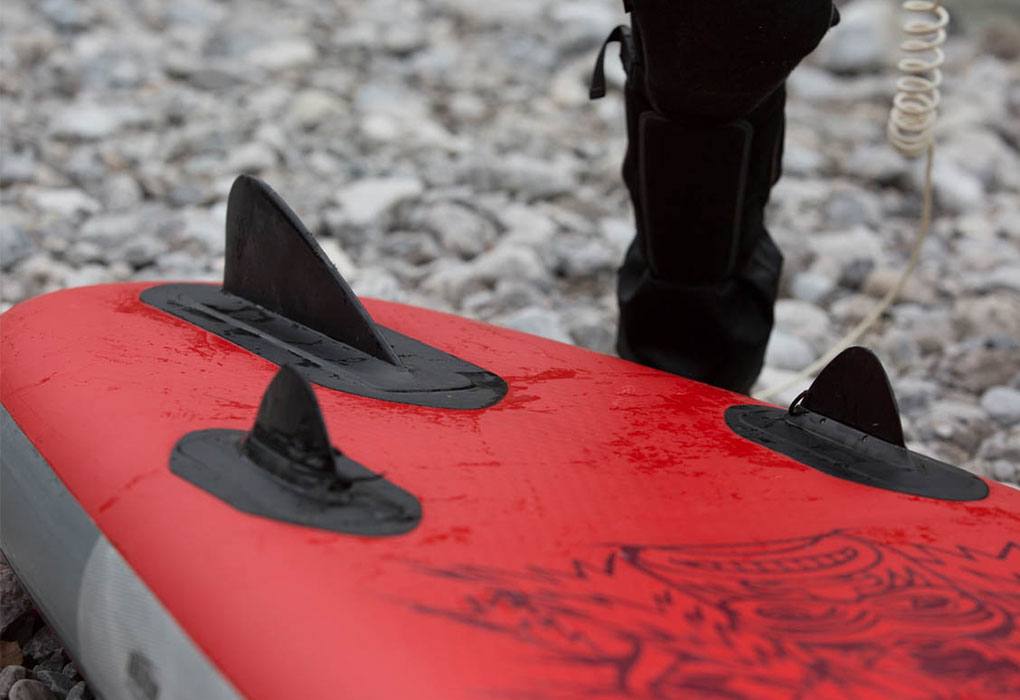 STANDING TRAY
The built up EVA sidewalls allow riders to use the slightly elevated rails to wedge their feet for additional support in tough conditions. They are now longer to provide that extra stability necessary under tough conditions.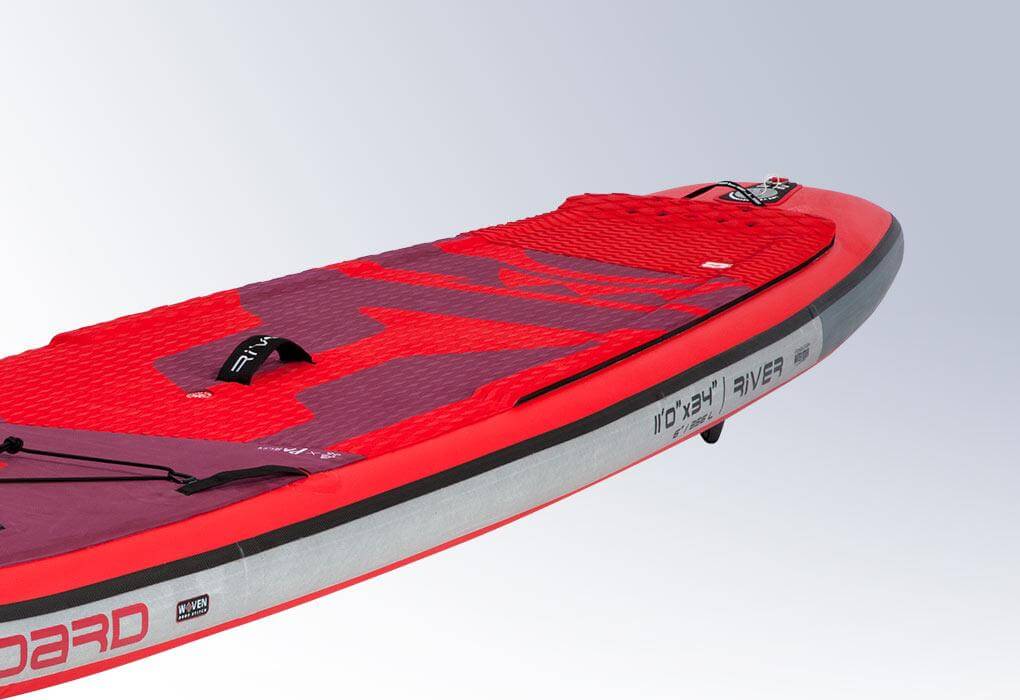 MULTIPLE CARRY HANDLES
Multiple reinforced carry handles on all corners of the board for easy climbing back onto the board.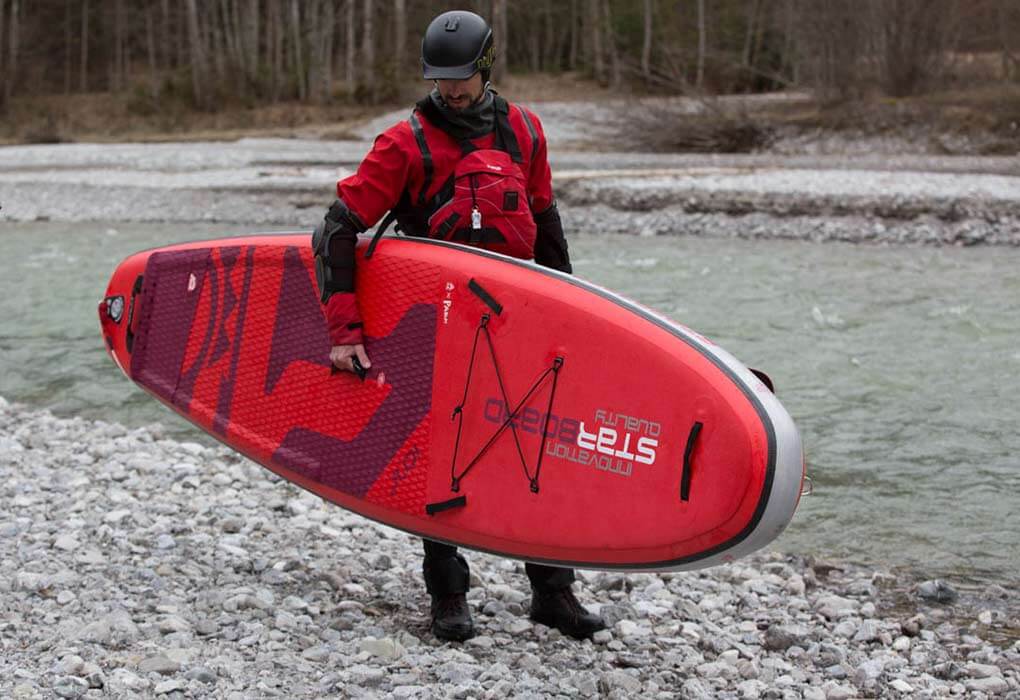 WIDE AND SQUARE NOSE
Improves stability to handle bigger drops and helps the board pop back up from nose diving.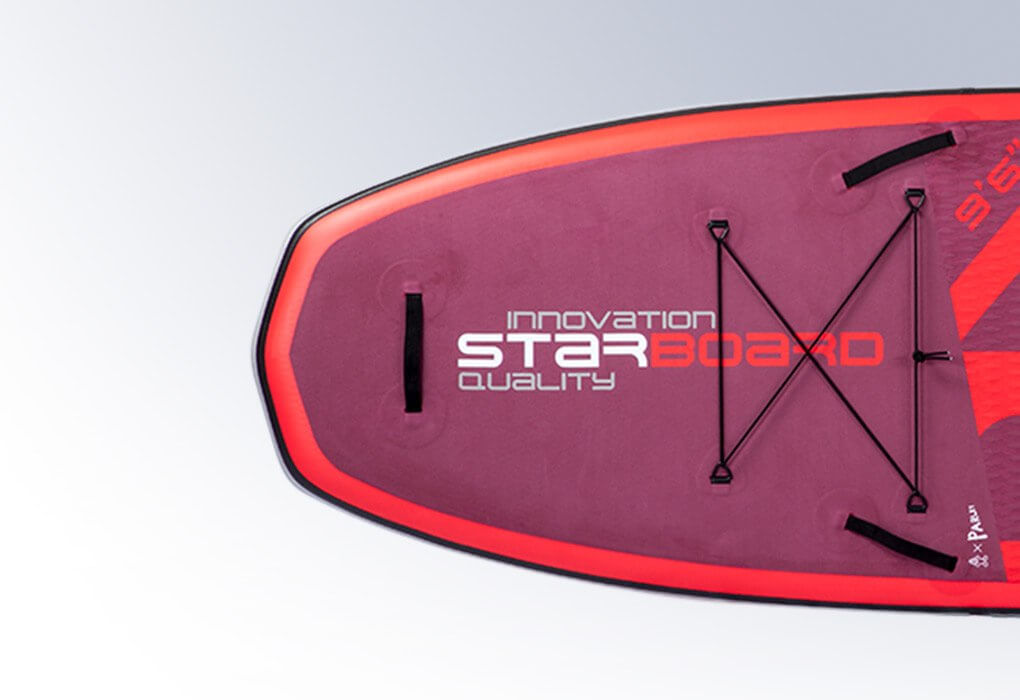 CURVED ROCKER LINE
? Raised nose rocker limits the nose diving and catching during turns.
? Tail kick helps to lift the nose during turns and change direction with ease.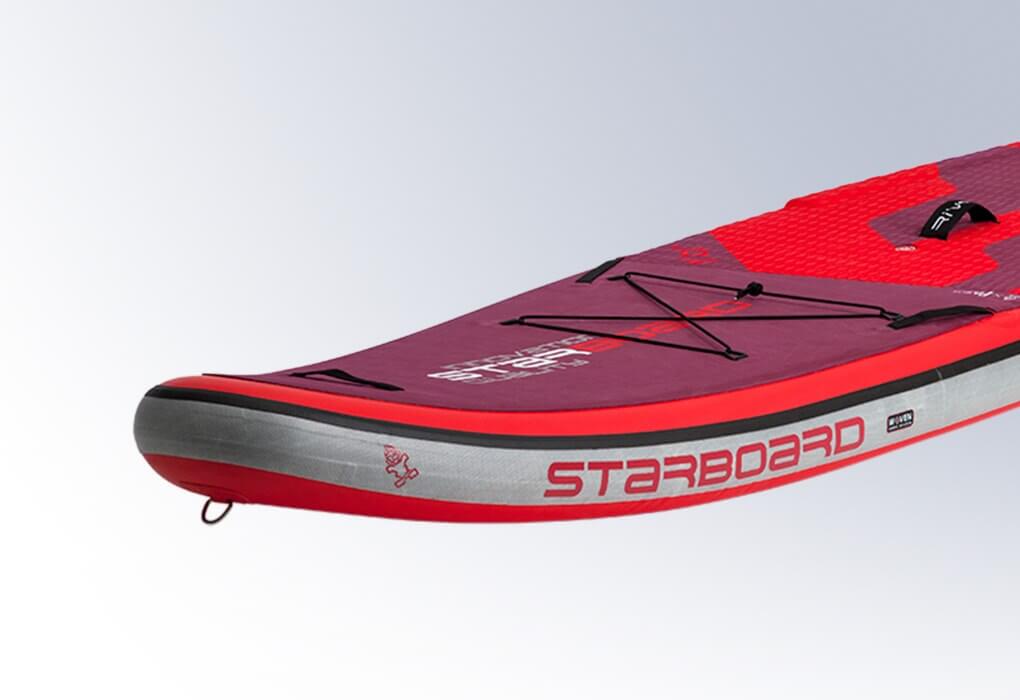 DIAMOND GROOVED EVA PAD
Diamond grooved deck pad provides comfortable grip, control and increases traction with less risk of slipping off when wearing footwear.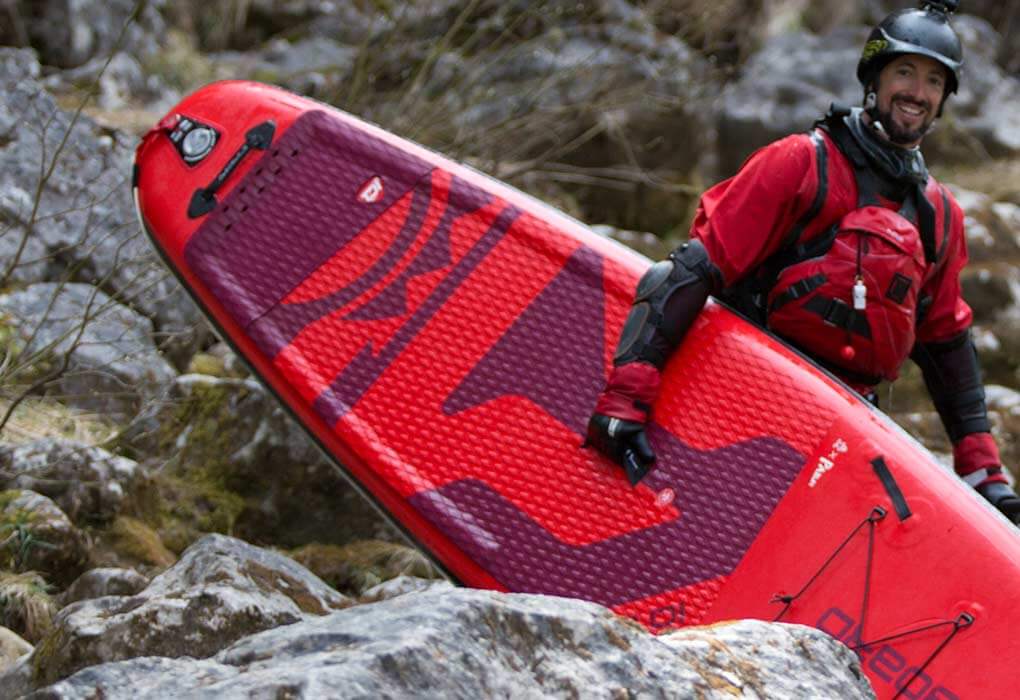 BUNGEE TIE DOWN
? A Bungee tie down in front of the board for storing gear and supplies.
? The bungee is attached with 4 D-rings which can be used to clip on your bags and gears.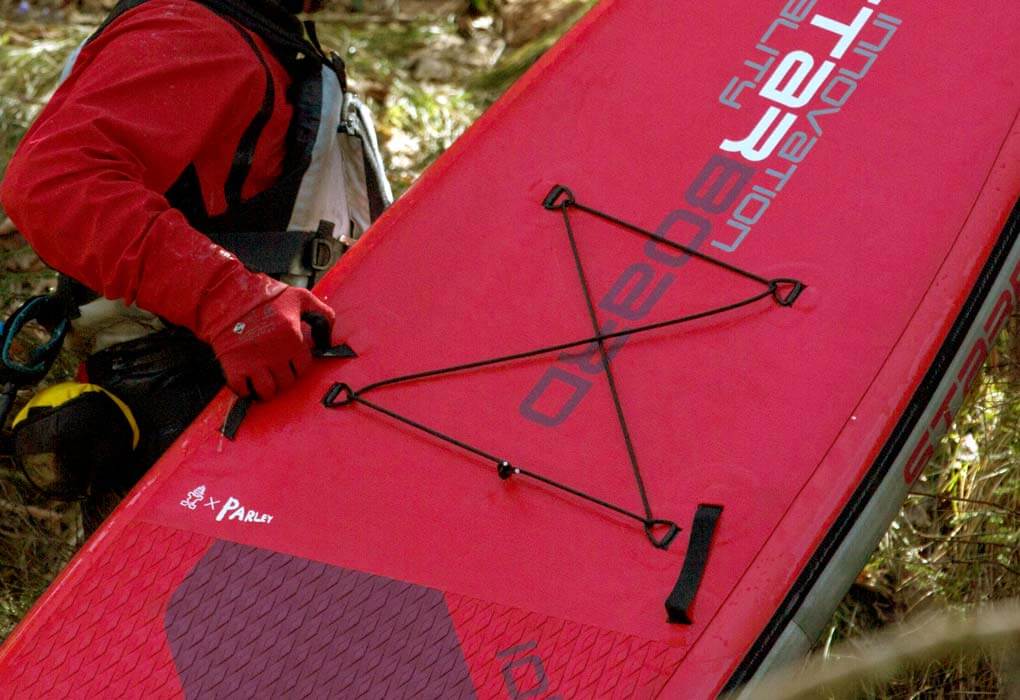 NEW?TIKI PUMP
FAST, EASY, AND COMFORTABLE
? Fixed hose and manometer position when inflating.
? 10% more efficient thanks to the redesigned piston and outside tube for the air outlet. Plus, double and single action pumping modes and wider removable foot base that increases stability when pumping.
? The base and handle are made from upcycled fishing nets.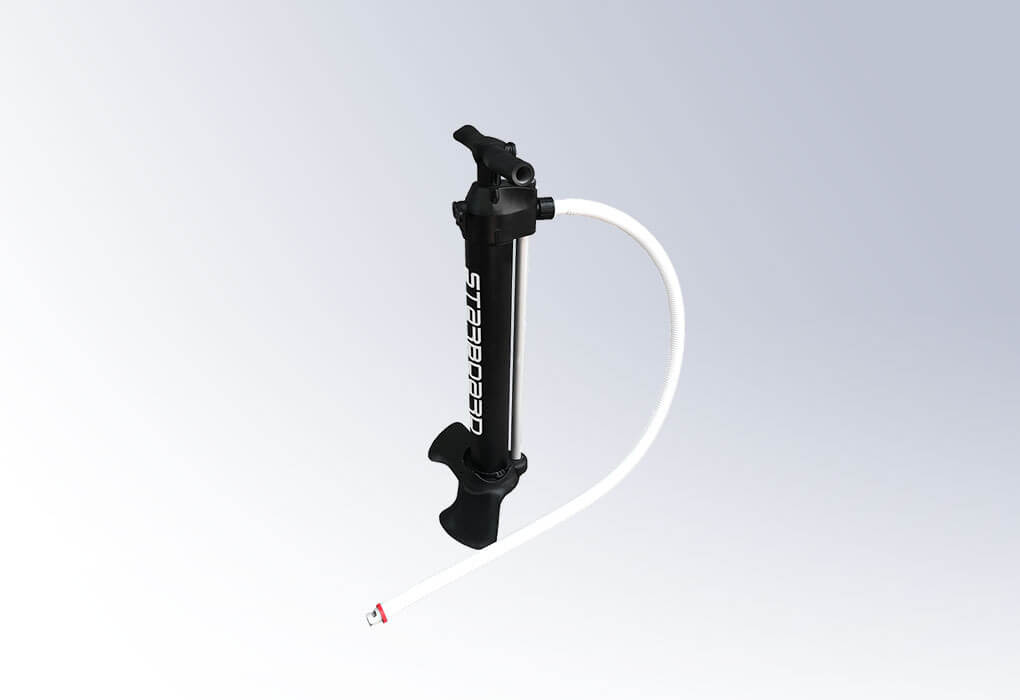 | Model | 11'0" X 34" RIVER | 10'11" X 31" RIVER RACER | 9'6" X 36" RIVER |
| --- | --- | --- | --- |
| Length (imperial) | 11'0″ | 10'11" | 9'6″ |
| Length (cm) | 335.3 | 332.7 | 289.6 |
| Width (imperial) | 34″ | 31″ | 36″ |
| Width (cm) | 86.4 | 78.7 | 91.4 |
| Thickness (imperial) | 6" | 6" | 6" |
| Thickness (cm) | 15.2 | 15.2 | 15.2 |
| Tail Width (Imperial) | 21.8″ | 20″ | 24″ |
| Tail Width (cm) | 55.4 | 50.8 | 61.0 |
| Volume | 356 L | 323 L | 334 L |
| Rider Weight | 60-115 kg | 50-95 kg | 55-105 kg |
| Fin Set Up | Thruster | Thruster | Thruster |
| Fins | Center: Track&Slide Fin / Side: White Water | Center: Track&Slide Fin / Side: White Water | Center: Track&Slide Fin / Side: White Water |
| Weight | 14.2 kg (Avg) | 13.8 kg (Avg) | 13.4 kg (Avg) |