Responsive and snappy, the Skater is the ultimate board for kiters who ride a variety of conditions and the perfect choice for twin tip riders that are new to directional riding. Featuring a compact, modern shape, the Skater takes directional strapped or strapless riding to new levels of fun anywhere in any condition.
For 2019 the Skater has been fine-tuned with a wider, more flowing outline and smoother rocker to deliver improved control and balance. This assists riders as they execute aerial tricks and hit critical wave sections with ease and confidence. The incredibly durable bamboo laminate construction works with a full deck pad to provide outstanding impact resistance. The rocker and single concave combine to improve grip and maneuverability for a tighter turning radius and outstanding upwind ability. Thinner rails help twin tip riders transition to directional riding faster and easier. Joining the 5'2" are the new 5'4" and 5'6" models—ideal for larger kiters or lightwind kiting.
If you are a strapless freestyle extraordinaire, or searching for an option that is easy to transport and provides incredible performance in an astonishing variety of conditions, the Skater is your board.
KEY FEATURES
Deep Single Concave Center = Soft landings + easy rail-to-rail transition
Lightweight Compact Shape = Ultimate control + balanced ride + convenient for travel
Double Bamboo Deck = Maximum durability + minimizes pressure dents
Parallel Outlines = Stability + perfect balance + smooth in chop
Thinned Rails in Tail = Superior grip
CNC Shape = Absolute precision shaping
Full 3D Double Density Deck Pad = Excellent comfort + cushioning + traction
Thruster Fin Setup = Snappy + control + release off the top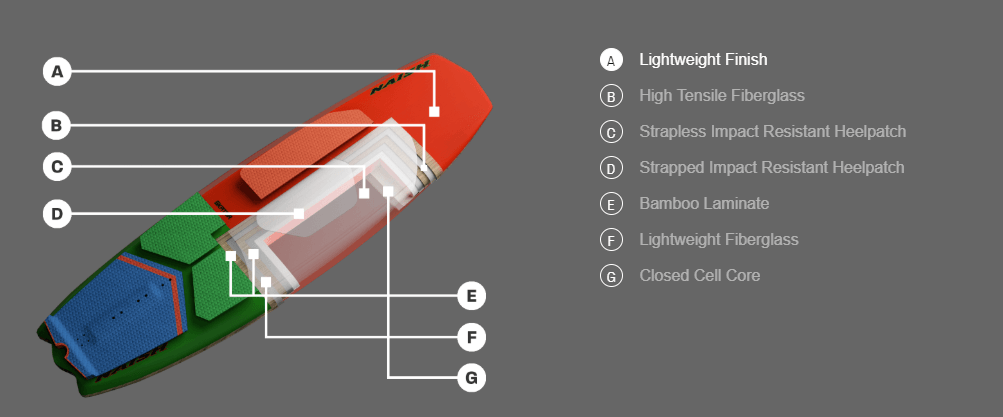 Carbon Torsion Cross Fins

Thinned Rails in Tail
Superior grip

Full 3D Double Density Deck Pad
Excellent comfort + cushioning + traction

Thruster Fin Setup
Snappy + control + release off the top