PADDLEBOARDING & WINDSUPING IN ONE
Our WindSUP Inflatables are compact, light and strong.
You can go paddleboarding, learn windsurfing and get planing with footstraps. They are great to teach kids to windsurf and they roll up into a bag when you're done.
They are available in a wide variety of sizes and two technologies: Zen and Deluxe; the latter adds a full daggerboard case for extra windsurfing performance.
For 2018, the Deluxe technology uses a new double-layer drop-stitch, while the Zen models feature a new removable center fin box.
RAIL EDGE
Our WindSUP Inflatables feature our 3D Rail Edge technology, a proprietary 3D elastomer compound that follows the contours of the board and creates a release edge that allows the boards to fully plane yet fold and roll up.
Thanks to this 3D Rail Edge, you can accelerate and enjoy the most exciting planing sensation possible on an inflatable board.

ZEN: REMOVABLE CENTER FIN BOX
All Zen models have a removable center fin box.
Remove the box for an improved paddling experience without the added weight or drag.
Attach the box and supplied Drake Shallow 22 center fin to prevent the board from drifting sideways when windsurfing.

DELUXE: DAGGERBOARD
The WindSUP Inflatable Deluxe use a 6″ thick ultra-stiff drop-stitch with a fully retractable, rubber-sealed daggerboard case.
Recommended for the best windsurfing performance.
Supplied with a Drake Shallow 22 tail fin that delivers as much directional traction as possible and a 57 cm long daggerboard for upwind performance.

MUSHROOM MAST TRACK INSERT & LOAD SPREADER
All WindSUPs use our 'mushroom' style mast track insert.
We insert it from underneath the board to make it extra safe and strong. The more the sail tries to pull the insert out, the more it stays in place.
A new deck plate distributes the top load over a large area for added stiffness.

FOOTSTRAP SYSTEM
Starboard's exclusive footstrap insert system uses 7mm thin insert plates that are glued to the board's surface.
The footstraps bolt into the embedded brass plate and two male pins connect through the footstrap for a twist-free fitting.
Available on Zen and Deluxe models.

AIR VALVE
All WindSUP Inflatables feature an air valve and a neoprene carry handle that doubles as paddle holder.

D-RINGS
They also feature two D-rings: one in the nose that acts as a towing eye for easy transport and one in the tail that acts as a leash plug.
Paddleboarding without a leash is dangerous and not recommended. Leashes save lives, wear one.

V8 DOUBLE ACTION PUMP
All WindSUP Inflatables are supplied with our benchmark V8 Double Action pump.
Inflate your board faster and easier with continuous pumping cycles in both down and upward action. Turn the switch and it becomes a single action pump for easy inflation to 18 PSI.
Always inflate between 15 and 18 PSI for maximum stiffness and performance.

UPGRADED DROP-STITCH TECHNOLOGY
All Deluxe boards feature an upgraded, double-layer, low-extension drop-stitch technology for added stiffness, improved durability higher resistance to puncture, improved shape stability over time and reduced weight.

ROLLER-WHEELED BAG
All of our WindSUP Inflatables are supplied with our new roller-wheeled bag that packs everything away tidily and conveniently.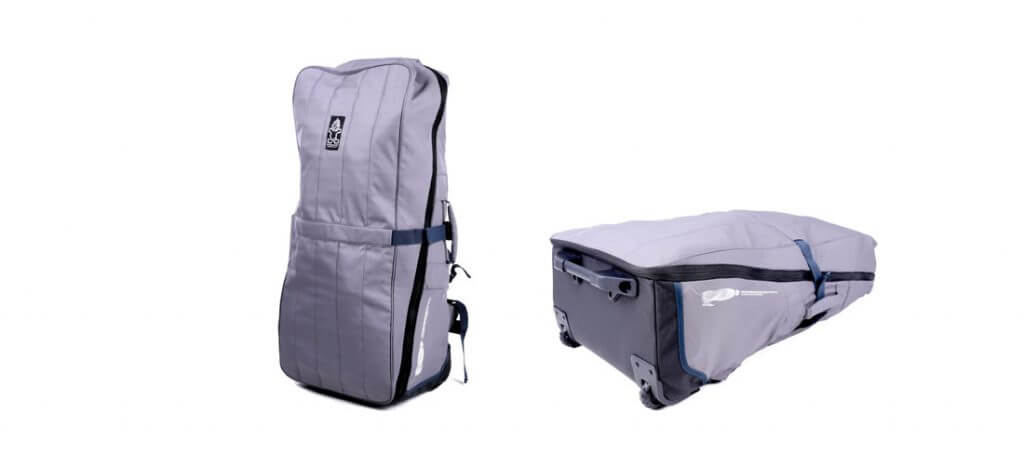 2018 Starboard WindSUP Inflatable
[stark_headline title="Constructions"]
• ULTRA LIGHT
• HARD STANDING AREA
• ROLLABLE FIXED FINS
[stark_headline title="Board Weight"]
 Weight:
26.01 lbs
*Weights are +/- 6%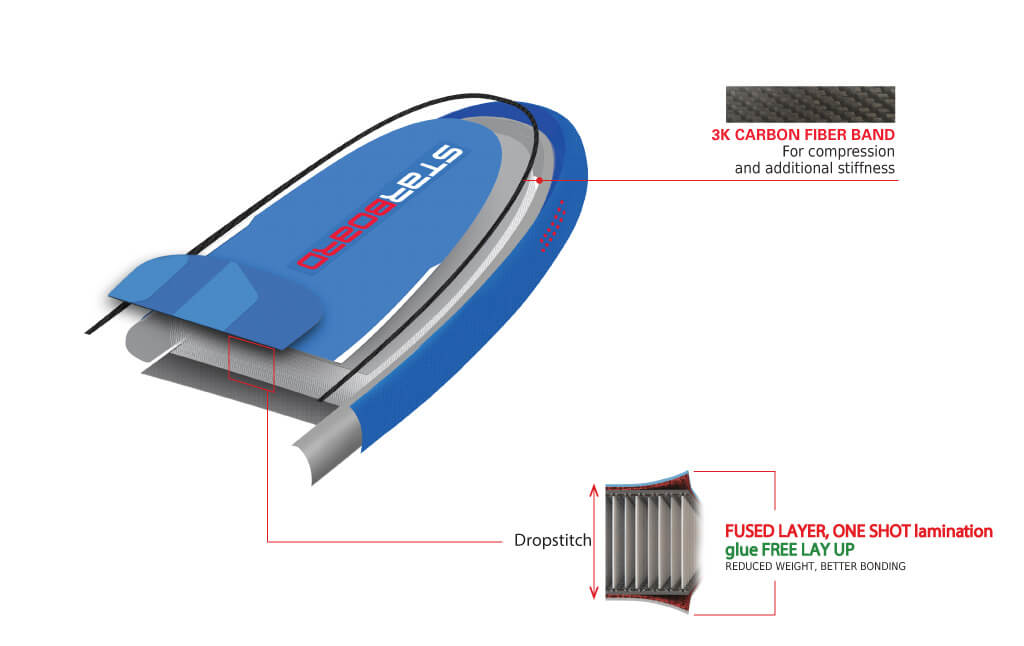 • EXTRA STIFF
• LIGHT
• FCS CONNECT FIN
[stark_headline title="Board Weight"]
 Weight:
TBA
*Weights are +/- 6%