Product Description
A fast and stable outline with the longest glide for riders up to 115 kg. Equipped with two bungee tie downs and two FCS inserts.
Maximizing glide and stability, the Inflatable Touring are designed to carry supplies and accessories for all adventures.
Equipped with bungee tie-downs, multiple FCS insert for mounting a GoPro Camera and paddle holder on the tail.
Available in Zen and Deluxe Inflatable Technologies.
Length:
Width:
Thickness:
Tail Width:
Volume:
14'0″
31″
6.0″
14.7″
354L
426.7 cm
78.7 cm
15.2 cm
37.3 cm
Suggested Rider Weight Range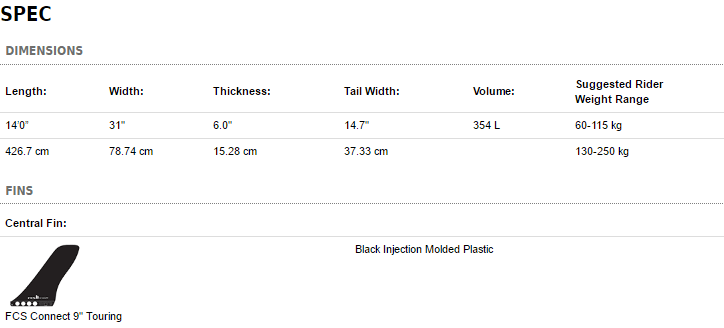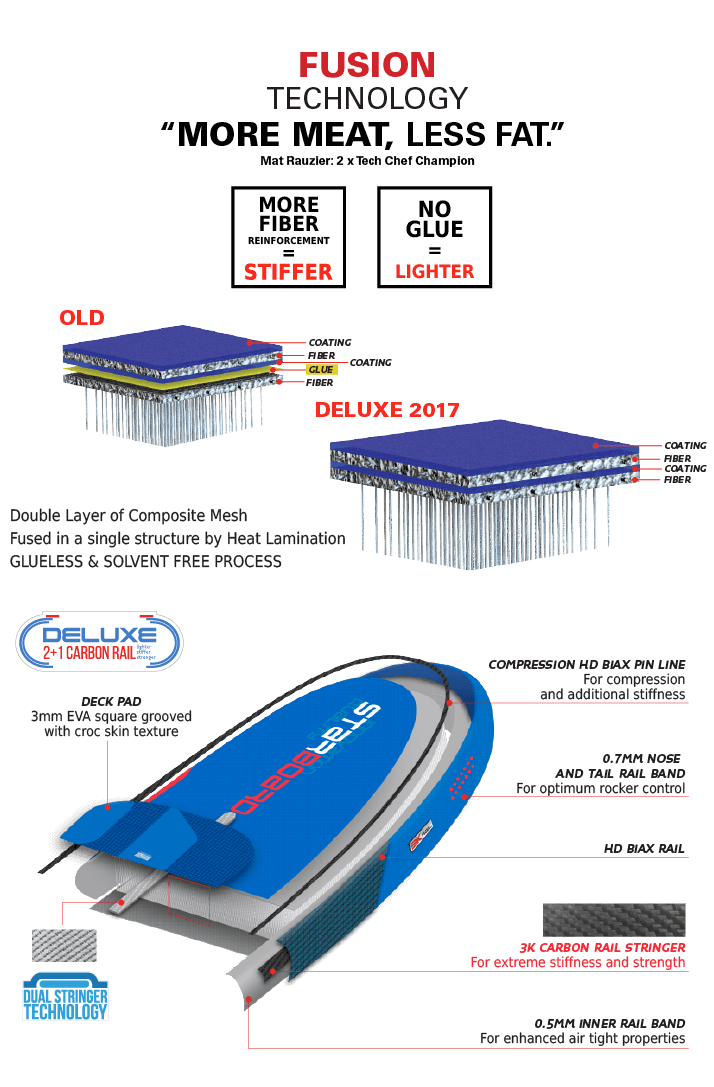 Deluxe Technology
• ULTRA LIGHT
• EXTRA STIFF
• CARBON RAILS
THE DELUXE EXPERIENCE
Lightest Technology
All the layers are fused in a single, glue-less process.
Stiffest Technology
The rails are reinforced by a 3k Carbon laminated apex band.
Cleanest Technology
The lamination process is free of glue and solvent using stricter rules in plasticizer. Packing of the board is free of plastic.
Faster board inflation, with less effort.
The benchmark V8 flow valve gets you to 15–18 PSI faster and with less effort.
Added Features:
• Neoprene paddle holder and carry strap on the tail.
• Center board carry handle.
• Integrated towing D-ring on bottom of the nose.
• Leash ring on the deck at the tail.
• 3mm square groove EVA deck pad with croc skin texture.
• FCS II SUP Touring 9" fin included on Racers,
Deluxe Touring, Atlas, Blend and all Serenity models.
• FCS II Connect 8" fin included on Whopper, Wide Point,
Drive and Explorer.
• Supplied with Magic Suit Case and Double Action pump.
*Recommended to inflate boards between 15-18 PSI for optimum stiffness and performance.
Weight: kg /  lbs
*Weights are +/- 6%