AVAILABLE LATE 2012 – Contact us for pricing and availability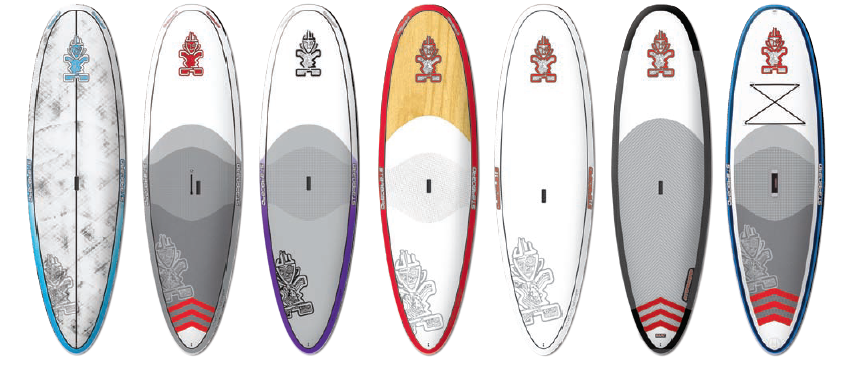 BRUSHED CARBON

The ultimate experience!

Paddleboards are relatively long so swing weight is simply crucial. Every 100 grams saved can be felt when carving on a wave.

Our Brushed Carbon wave boards are up to 3kg lighter than our AST technology which already is the industry benchmark for light weight, strength, and durability. The incredible weight saving makes the Brushed Carbon boards feel 1 to 2 feet shorter and accelerate more quickly than our standard construction.

By far the lightest possible technology in the market, these boards are crafted by the most experienced workers ensuring the highest precision in every step in the birth of the board. The boards are monitored by the tightest QC system available and we spend our valuable time inspecting them for you to ensure you receive EXACTLY the same shape that we spent years designing.

The board construction features a combination of an ultra light, flat-weave biaxial carbon and medium density high quality PVC sandwich foam wrapped around a light density EPS core. The first board construction in the World to utilize an ultra light carbon fibre that is flat-weaved for total mechanical efficiency at half the specific weight of regular carbon weaves. The first real performance technology to be introduced to the world of paddle boarding: lightest weight, quickest response.

The light white paint job is brushed to further reduce weight. High density PVC foam reinforcements are used around inserts. Brushed Carbon models feature ultra lightweight Startouch deck grip.

• All center fins are Blue Starboard Hexcel

• Side fins are Blue Starboard Hexcel and flex fins.

Key Selling Points:

• Lightest board on the market

• Light weight allows for faster turning and acceleration

• Proven durability

• Easier to carry
AST SILVER

Maximum durability and Value

AST technology uses layers of 3-dimensional 400g glass mat wetted out

with an expanding epoxy resin system that creates volume within the

skin as it cures under pressure. This creates a thick, stiff, durable, yet

lightweight sandwiched laminate. A half-deck Wood layer improves rigidity

and deck impact resistance.

Advantages: Tough and light construction, more value, most durable

offering.

All AST Silver models feature the following:

• Silver PU painted ding resistant rails

• 3/4 Deck Pad with 4mm square-groove traction EVA foam in the standing

area and 2mm EVA fore and aft with light weight Startouch deck traction

on the nose.

• Windsurf mast inserts are provided on all models except 6'6"x30",

6'6"x34", 7'4" x 26", 7'7"x27, 7'8"x32", 8'0" x 28", 8'2"x32", 9'6"x27"

• Boards under 10' have foot strap inserts for windsurfing, except 6'6"x30",

6'6"x34", 7'4" x 29.5", 7'4"x32", 8'2"x32", 8'0" x 28", 7'7"x27"

• An additional set of Surf Finz boxes are installed forward near the rail

for added tracking while windsurfing on the following models (12'6×30",

12'0"x36", 12'0"x33", 11'2×36", 11'2"x37", and 11'2"x39"). Extra side

fins are not supplied.

• All boards 9'8" and shorter feature an integrated EVA kicker on the tail.

• All center fins are Blue Starboard Hexcel

• Side fins are Blue Starboard Hexcel for Pro models or Starboard flex fins

for the rest.

Key Selling Points:

• Durable construction

• 3/4 Deck pad

• Windsurf option on many sizes
AST CANDY

Maximum durability and Value

AST technology uses layers of 3-dimensional

400g glass mat wetted out with an expanding epoxy resin system that

creates volume within the skin as it cures under pressure. This creates

a thick, stiff, durable, yet lightweight sandwiched laminate. A half-deck

Wood layer improves rigidity and deck impact resistance.

Advantages: Tough and light construction, more value, most durable

offering.

All AST Candy models feature the following:

• Cyan epoxy painted ding resistant rails.

• Full deck pad with 4mm square-groove traction EVA foam in the standing

area and 2mm EVA fore and aft.

• All boards 9'8" and shorter feature an integrated EVA kicker on the tail.

• All center fins are Blue Starboard Hexcel.

• Side fins are Blue Starboard Hexcel for Pro models or Starboard flex fins

for the rest.

Key Selling Points:

• Durable construction

• Full Deck pad

• Bright Cyan rails
WOOD

Starboard and Jean Louis Colmas from New Caledonia introduced the

wood veneer molding technology to the board industry in 1993. 19 years

later we proudly introduce the strongest and most value orientated wood

construction to date. The full 0.6 mm Australian pine deck at a density of

510 kg/m3 is combined with 3-dimensional 400g glass mat wetted out with

an expanding epoxy resin system. The volume creation during expansion

within the skin turns the lay up into a stiff, durable yet light sandwich

construction.

Advantages: Beautiful, tough and light construction, more value, our

most durable offering.

All Wood models feature the following:

• Red PU painted ding resistant rails

• 3/4 Deck Pad with 4mm square-groove traction EVA foam in the standing

area and 2mm EVA fore and aft with light weight Startouch deck traction

on the nose.

• All boards 9'8" and shorter feature an integrated EVA kicker on the tail.

• All center fins are Blue Starboard Hexcel

• Side fins are Blue Starboard Hexcel for Pro models or Starboard flex fins

for the rest.

Key Selling Points:

• Light, strong ,beautiful wood finish at an affordable price

• Durable construction

• 3/4 Deck pad

ProTECT – UV protective film protects Wood Technology boards from UV
damage. More durable and a longer lasting wood finish.

Without ProTECT film: after serveral years of sunlight exposure.

With ProTECT film:

more durability and a longer

lasting wood finish.
AST WHITE

Starboard quality at an attractive price

AST technology uses layers of 3-dimensional 400g glass mat wetted out

with an expanding epoxy resin system that creates volume within the

skin as it cures under pressure. This creates a thick, stiff, durable, yet

lightweight sandwiched laminate. A half-deck Wood layer improves rigidity

and deck impact resistance.

Advantages: tough and light construction, more value, most durable

offering.

AST WHITE is Starboard's value based technology. For 2011, the

White range has been expanded to include all All Round boards and the

12'6"x29.5" and 12'6×31.5" Race.

Featuring the same technology as our AST Silver and AST Candy, but with

simpler graphics, Startouch traction, and Starboard injection molded center

fins. Side flex fins will be supplied with 11'2"x36", 10'5"x32", 10'5"x30",

10'0"x36", and 10'0"x34" and other boards with center fin only.

AST WHITE gives the price sensitive costumer the opportunity to experience

the innovation and quality of Starboard products!

Key Selling Points:

• Economical price with the same construction as AST Silver and AST Candy

• 100% same shapes as AST Candy and Silver models

• Same great service and warranty
ASAP

Soft Top Hard Bottom Technology: Our "soft & tough" construction for our

collection of low maintenance, user-friendly family products. Single Wood

stringers introduced overall stiffness. Wood half-deck provides extra impact

resistance on the deck. Hard bottom material gives a smooth bottom finish

within a material that is tough, wear resistant and maintenance free. Full

EVA deck for a soft, comfortable touch. The EVA is grooved in the most

important areas.

High density EVA around the rails for increased impact resistance. This high

density EVA has been further toughened through a thermoform process

which increases the surface density.

Soft sponge tail bumper for safety.

Available in 9'0" x 30", 10'0" x 34", 11'2 x 30" and 12'0" x 33"

Advantages: light, safe, comfortable, low maintenance.

Key Selling Points:

• Economical price

• Full deck pad
INFLATABLE

Starboard introduces a range of world class inflatable

paddle boards covering the range from dedicated surf,

to white water and touring.

The construction consists of super strong drop-stitch material with abrasion

and UV resistant 1000 Denier polyester reinforced PVC rail bands. Two

layers of coated material are connected by hundreds of small but strong

internal threads which allows the board to hold the shape when inflated

to high pressure (18 psi). Starboard introduces nose concave and selfregulating

rocker into the bottom hull shape to more closely represents

our standard technologies, vastly improving performance.

These boards will become the favorite for white water enthusiasts, travelers

and those with limited storage space.

All Astro Delux include the following features:

• Exclusive extra tall high aspect pressure single action pump ( 18 psi)

• Large comfortable high end back pack with extra room for gear storage.

•"No tools"naca profile center fin box system.

• Easy removable side fins.

• Super strong reinforced PVC drop-stitch material (18 psi pressure).

• Full deck EVA, including nose area.

• Feature 4 D-rings on the nose for gear storage.

• Carry handle with soft cover

• Leash attachment point.

• Repair kit.

Extra HIGH aspect

PRESSURE PUMP

Extra tall high pressure

pump for ease of inflation.

Extra wide handle

for comfort and "big

foot" base for balance,

ASTRO Delux BOARD BAG

Heavy duty, back pack style, canvas and

mesh board bag to store your new Astro

and high pressure pump.

ASTRO BOX

Starboard innovates with the introduction of the AstroBox, the most streamlines fin system available on inflatables. The base is only 7mm thick and is foiled with a NACA profile to reduce drag to a maximum. You can still enjoy the ease and simplicity of a tool free set up as you just slide the fin in position with a self lock system.