The Naish Nation Tour bus is crossing the continent, stopping at 30 great kite spots along the way.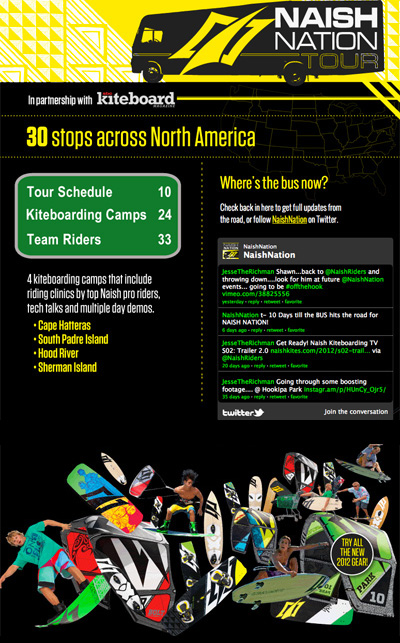 Come join us and meet the Naish Kite Team, soak up the tech talk and get your hands on the all the latest 2012 Naish gear.
30 Stops, 4 Camps, and 5 Team Riders (including Robby Naish, Sam Light, Jesse & Shawn Richman and Davey Blair).
All kiteboarding camps will include riding clinics with top team riders, tech talk and multiple days of testing.
FlORIDA – HATTERAS – TEXAS
TOUR Florida: April 7-20
TOUR Georgia & South Carolina: April 21-25
CAMP Hatteras, SC: April 26-29
CAMP South Padre Island, TX: May 3-6
TOUR Northeast: May 10-15
CALIFORNIA
TOUR California: May 24 – June 4
CAMP Sherman Island: August 9-12
CAMP Hood River: June 29 – July 1
TOUR Northwest: July 12-22
TOUR Quebec: August 15-20
GREAT LAKES
TOUR Great Lakes: August 24 – September 2
Check the NAISH NATION TOUR on Facebook for the latest updates.
See you on the water!