Newport Beach, CA (April 18, 2012) – Every year the world's best paddle boarders gather in Hawaii to contest the Molokai-2-Oahu World Championship of Paddle boarding. To claim the world title, the winner must cross one of the world's most treacherous bodies of water, the 32 mile Ka'iwi channel, aptly named the 'channel of bones'. Since 2002, Jamie Mitchell has achieved the M2O world title an incredible nine times. One more victory would cap off a perfect decade of dominance in one of the world's toughest events.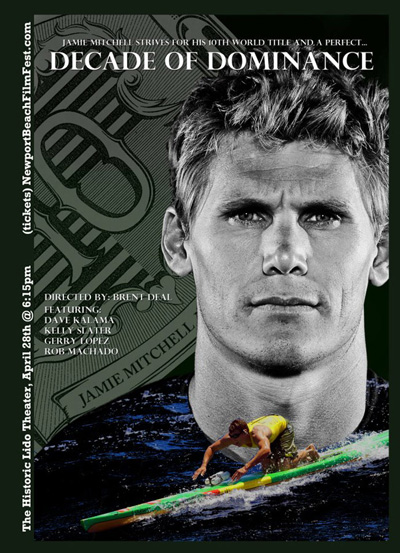 You're invited to see how Jamie's achievements transpired at the Decade of Dominance movie premiere. The film features Jamie Mitchell, Kelly Slater, Rob Machado, Gerry Lopez, Dave Kalama and was directed by Brent Deal. Premiere begins at 6:15 pm Saturday, April 28th at the Lido Theater in Newport Beach, CA. Jamie Mitchell will be at the Premiere so don't miss this chance to meet the man himself and share in his historical 10th straight Molokai-2-Oahu Paddleboard World Championship victory!
You won't want to miss the DOD after-party hosted by Locale Magazine at Equinox. Guests will be treated to hosted bars, entertainment and hors d'oeuvres by Daphne's California Greek.
Decade of Dominance Movie Premiere
When – 6:15pm Saturday the 28th of April
Where – Lido Theatre 3459 Via Lido, Newport Beach, CA
Click HERE to watch the movie trailer or click the play button below.