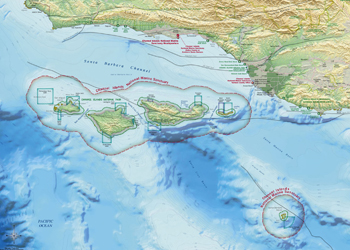 Last week, stand up paddler Karen Wrenn became the first person to paddle between all 8 of the Channel Islands, consecutively, off the coast of Southern California.
Rough seas, inclement weather, long distances and sealife with mighty big teeth were some of the challenges she had to overcome to make the crossing.
"After he heard me talking about paddling the Channel Islands, my husband asked me if I was serious," Wrenn said. "My answer was simple, why wouldn't I?"
The 37-year old SUP champion, Naish team rider and mother of two, trained intensely to complete what has never been accomplished by any male or female on a human-powered vessel. Wrenn was taken by boat to the islands and paddled between islands over the course of five days, returning to Long Beach by boat following completion of the crossing. Previous attempts by kayakers have been thwarted by harsh winds and harassment by local sharks between the islands.
In preparation for the journey, Wrenn ramped up her training, more than doubling her normal paddling routine. Additional steps were being taken to ensure optimum physical fitness for the event.
"I have been doing cross training in the gym with my trainer and running to keep up my endurance and cardio," Wrenn said. "I've also been testing electrolyte mixes, nutrition and recovery drinks to see how my body reacts when under stress. I am excited to put my training to use."
"Not everyone has the opportunity or the ability to do things like this, but I have been blessed with both," Wrenn concludes. "Pushing my limits teaches me so much about myself and what it means to really live and take advantage of every day and opportunity. I hope to inspire other people to be their best self and live life without regrets."
Congratulations Karen on your overwhelming success!
You are an inspiration.
Photo credits (in gallery below): ©Wyms