Product Description
Great fit is a core element of Ultimate Paddle Performance and nowhere is that more vital that with the youth paddler. The Prodigy 85 features a small size blade, shaft and grip to fit your kids perfectly. Light swing weight, from fiberglass and carbon construction reduces fatigue. Our innovative slender, rectangular blade shape means more time on the water, more fun, better performance and the paddle adjusts to grow with them.
With decades of design experience, we saw a need to innovate blade shape. Our longer, rectangular, slender design is easier on the body with a more gentle catch. Higher cadence and less fatigue without sacrificing blade size and power.
Designed with a 10 degree shaft to blade offset. Suited to fast forward paddling, but still an excellent choice for the junior ripper in the surf.
Dihedral, the ridge down the middle of the power face, allows for smooth and stable forward paddling. A core philosophy for Werner.
Small-sized 85sq" blade and innovative shape keep kids on the water longer.
SUP Kids-Performance Adjustable system, allows easy and precise paddle length adjustment. The perfect way to fit for your steadily growing kids ranging in age from 7 to 13.
Small Fit shaft and palm grip give better paddle control and comfort for smaller hands. Keep your kids on the water and happy with a better fitting, better performing, paddle.
Optimized flex and strength, for comfort all day without sacrificing power or confidence.
Ultimate performance brings together all of our most advanced designs.
The volume of the buoyant, fiberglass blade creates an exceedingly light feel for effortless and confident strokes, while the smooth back face is smooth and quiet.
Unique graphics enhance our bright turquoise and red blades to stand out on the water as much as their performance does.
PERFORMANCE LEVEL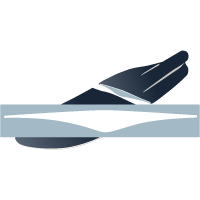 Ultimate
 Our Ultimate Performance brings together all of our most advanced designs.
Paddles that offer Ultimate Performance have an exceptionally light,
buoyant and quiet feel on the water.

10 Degree blade offset
10 Degree blade to shaft offset is utilized to help the Versatile use paddler excel.
For the paddler who does a bit of everything,some touring, surfing, fishing, fitness,
the compromise for forward paddling and bracing is 10 degree.

Blade Dihedral-Stand Up Paddle
Dihedral blade shape was created to direct water to flow evenly off each side of the
blade creating a smooth and stable stroke.

Ultimate – Fiberglass
The volume of our proprietary foam core meets fiberglass to bring bright colors,
modest price and durability.
BLADE SHAPE


 SUP blade Shape
The innovators of the Long Slender Rectangular blade shape.
Our blade shape is far and away themost gentle on the body with a softer feel a
nd higher cadence without having to sacrifice blade surface area.
SHAFT FEATURES
SUP Kids-Performance Adjustable
Our simple SUP Kids-Performance Adjustable helps you fine tune paddle length
as your youth size paddler grows. Easily fits 7 to 11 years of age.
SUP Shafts
Whether our straight shaft, or bent, our shafts have a unique feel.
Notice the texture, the indexing.Designed to give you more comfort and
control and to be able to feel the precision of every one of your strokes.
Premium Carbon –
Straight Our premium carbon shaft is expertly engineered in house with a
higher percentage of carbon materials versus fiberglass maintaining comfortable flex.
SUP Palm Grip
Our custom fit palm grip is the most comfortable grip on the market today.
You will find that you will be able to keep a loose grip,even in the toughest of conditions,
while the width of the full palm grip enables more blade control.

SUP Small Fit
Available on our most popular SUP paddles, ladies can match a Small or Mid-sized blade
to small diameter shaft and small sized grip. Proper fit, lighter grip, better technique, eliminate fatigue.

SUP Straight Shaft
For those that like a traditional, simple feel. Our attention to detail in texture,
indexing and flex allows for confident control and comfort all day long.