Description
As parents we want to be mindful of what we spend on beginner gear for our young paddlers. "What if they don't like it?" "They're going to grow out of it." We have addressed these concerns with the Flash 85 kids SUP paddle. Great craftsmanship and materials at an amazing price, and the adjustability to grow with your child from ages 6 to 13. We are doing all we can to help make their time on the water with you as enjoyable as possible with more efficient blade design and size, light swing weight and kid sized shaft. The Flash 85 is the total package and your ticket to more family fun on the water.
The simple to use adjustable system extends with 16″ of height range, growing with your child from 3'8″ to 5′ or approximatley 6 to 13 years of age.
A proven, simple and precise adjustable length mechanism, we've made great additions like printing height and paddle length righ on shaft, making it easy to choose your childs proper paddle length.
A small, 85sq" blade size helps reduce strain and fatigue and keep kids happier and on the water longer.
Our longer, rectangular, slender design is easier on the body with a more gentle catch. Higher cadence and less fatigue without sacrificing blade size and power.
Advanced designs down to your childs paddle, like dihedra blade design. The ridge down the middle of the power face, allows for smooth and stable forward paddling. A core philosophy for Werner.
When shopping our Standard performance, you'll see Werner's heritage for a better paddling paddle, at introductory prices.
Injection molded blades are impact and wear resistant. They have light swing weight for the value, while maintaining the design elements that are direct from our more advanced paddles. Smooth, stable strokes for easier paddling.
Our fiberglass shaft gives you light weight and less fatigue, at a more modest price. Standard with the "Tweener" size, it gives a diameter that fits well for all hand sizes.
PERFORMANCE LEVEL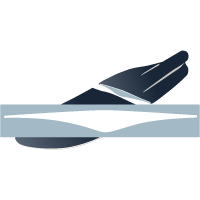 Standard
For those that take a more casual approach to paddling, we still
want you to experience the feel of a Werner Paddle on the water.

10 Degree blade offset
10 Degree blade to shaft offset is utilized to help the Versatile use paddler excel.
For the paddler who does a bit of everything,some touring, surfing, fishing,
fitness,the compromise for forward paddling and bracing is 10 degree.

Blade Dihedral-Stand Up Paddle
Dihedral blade shape was created to direct water to flow evenly off each side of the
blade creating a smooth and stable stroke.

Ultimate – Fiberglass
The volume of our proprietary foam core meets fiberglass to bring bright colors,
modest price and durability.
BLADE SHAPE


 SUP blade Shape
The innovators of the Long Slender Rectangular blade shape.
Our blade shape is far and away themost gentle on the body with a softer fee
l and higher cadence without having to sacrifice blade surface area.
SHAFT FEATURES
SUP Kids-Performance Adjustable
Our simple SUP Kids-Performance Adjustable helps you fine tune paddle length
as your youth size paddler grows. Easily fits 7 to 11 years of age.
SUP Shafts
Whether our straight shaft, or bent, our shafts have a unique feel.
Notice the texture, the indexing.Designed to give you more comfort and control
and to be able to feel the precision of every one of your strokes.
Premium Carbon –
Straight Our premium carbon shaft is expertly engineered in house with a
higher percentage of carbon materials versus fiberglass maintaining comfortable flex.
SUP Palm Grip
Our custom fit palm grip is the most comfortable grip on the market today.
You will find that you will be able to keep a loose grip,even in the toughest of conditions,
while the width of the full palm grip enables more blade control.

SUP Small Fit
Available on our most popular SUP paddles, ladies can match a Small or Mid-sized blade
to small diameter shaft and small sized grip. Proper fit,
lighter grip, better technique, eliminate fatigue.

SUP Straight Shaft
For those that like a traditional, simple feel. Our attention to detail in texture,
indexing and flex allows for confident control and comfort all day long.