Welcome to California Kiteboarding the only Kiteboarding Shop in the Central Coast and the 1st Central Coast SUP shop.

Recognize any of California's greatest Premier Kiteboarding Locations?

Pismo Beach, Morro Bay, Oceano, San Simeon, and Cayucos, Waddell, Scott Creek, Crissy Field, Cresent City, Rio Vista, C-Street, Mission Bay, Seal Beach, Jalama, and some other spots we have yet to kite!

----
What is Kiteboarding?

There is a sport that is like surfing, wakeboarding, and flying all at once. If you've ever been to Pismo Beach on a windy day, you will see over two dozen kiteboarders in the water or doing tricks high above it. Most of these riders are ordinary people that are simply addicted to this amazing extreme sport called kiteboarding.

Kiteboarding uses the wind to combine the aspects of surfing, snowboarding, wakeboarding, and windsurfing into one extreme ocean sport. The kite, anywhere from 6-20 square meters, powers the rider through the water. The kite will have either 4 or 5 lines up to 27 meters long that connect to a control bar, which the rider pushes and pulls to control the kite in any direction. The bar hooks into the rider's harness, which is most often worn around the waist. A board similar to a wakeboard or surfboard enables the rider to fly over the water. Check out our kites, boards, and harnesses here
We carry Naish, DaKine, Slingshot, Neil Pryde, Caution, NPX, Starboard, Creatures of Leasure, Ocean and Earth, Werner, Garmin, AzHiAzIaM, MBS, and much more.

2012 Labor Day GoPro Sale!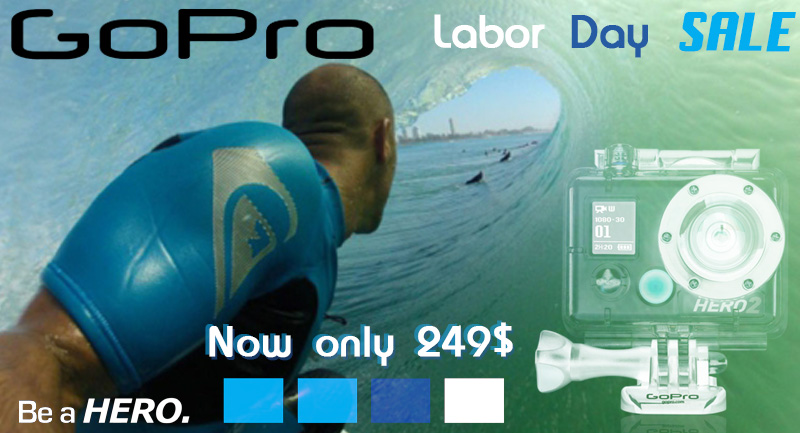 GoPro is pleased to make the following Labor Day "Holiday" promotion available to you. This is a limited-time opportunity to get an HD GoPro HERO 2 product at an exclusive promotional price!
GoPro cameras are used by more professional athletes, sports filmmakers and core enthusiasts than any other camera in the world. The HD HERO2 is the most advanced GoPro camera yet. Wearable and gear mountable, waterproof to 197′ (60m), capable of capturing professional full 170º wide angle 1080p video and 11 megapixel photos at a rate of 10 photos per second, the HD HERO2 is the world's most versatile camera. Whether your goal is to capture a great day out with friends or you're gunning for the cover of a magazine, the HD HERO2 can help you nail it and look like a HERO.
World's Most
Versatile Camera
Wear it. Mount it. Love it.
"When I saw the footage from the GoPro on our big screens at Skywalker Ranch, I was amazed..."
Producer Rick McCallum, Lucasfilm, Ltd.
"...packs more power than most professional cameras on the market today."
The New York Times
"This is the best sports cam I've ever used."
Gizmodo
© California Kiteboarding, LLC