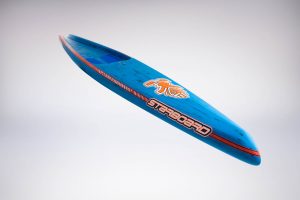 Sale!
2015 Starboard Sprint
$

3,200.00
"This year's 12'6'' x 25'' is significantly faster than last year's 12'6" x 24'' and as stable as last year's 12'6" x 26."
The world's fastest flatwater orientated board raises the bar even higher for 2015, with increases in speed and efficiency over the victorious 2014 models.
The bottom shape has been completely updated to offer better versatility in flatwater and ocean chop, with cross rockers providing plenty of curves (control), but a flat profile (speed).
The complex concave and rail shape dictates at all time where the water should flow under the board to reduce drag, generating bags of acceleration through the Venturi effect.
The 2015 model is significantly more stable than last year relative to width, partly due to the new inner deck rail shape which offers a low center of gravity with wider inside standing area and the concave tail.