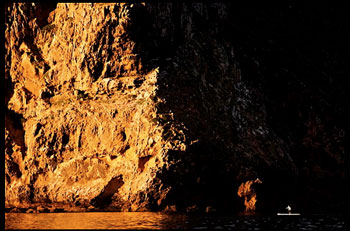 It was one year ago this month that Naish team rider, Karen Wrenn, took on the challenge of crossing the seven channels of California's Channel Islands – all on her Glide 17'0". The epic paddle, over five consecutive days and 150 nautical miles, made Karen the first stand up paddler to cross all seven channels (let alone the first female to brave crossing the sharky waters of SoCal's Santa Barbara Channel on an SUP).
Her movie, The Crossing, has just been released and Karen is sharing the experience in a series of articles on her blog. Here's a little taste:
"We wake up before sunrise this morning. It is spookily quiet and dark. I will be starting my crossings today with the rising sun.
John, Shelly and Ryan are getting in the dingy so they can get some closer photos this morning. I am climbing on my board as the sun is just starting to rise. The sunlight is glowing off the huge cliffs and it takes my breath away. I have a flood of emotion overcome me. This is it… this is why I'm here… to experience a moment like this. It is magical. I feel an overwhelming sense of freedom and peace and calm. I am feeling extremely lucky to have this opportunity. I know this is going to be a great day!
I am paddling from San Miguel to Santa Rosa island. I will be doing three crossings today. The first crossing seems like it goes by really quickly. I have made it to Santa Rosa and my spirits are high.
I am getting ready to do the second crossing of the day from Santa Rosa to Santa Cruz. The water is glassy. I turn my music on and decide to this crossing at a quicker pace. It is the first time of the trip that I feel like I am really moving. It is also the first time that I haven't had to deal with a head or side wind. My music is blasting and I am not scared of anything today. My boat is impressed by my speed. I have made it to Santa Cruz Island. Santa Cruz island is the largest of the eight Channel Islands." >> read more
Watch the full movie here (and make sure you stay 'til the end of the credits…it's the best part!)