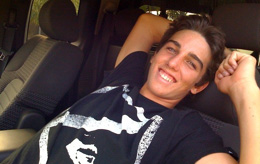 Kody Kerbox, one of Naish's original "young guns", has come up through the ranks to prove himself a fierce competitor in the SUP world. Kody is the son of big wave legend, Buzzy Kerbox, and lives in Maui, HI where he surfs shortboards, longboards, SUP, tow-in, foil, windsurfs and races stand up paddleboards. We sat down with him after his return from the Hawaii Island Finals – the last event of this year's Stand Up World Tour – where he wrapped up the tour with an overall 8th place finish.
You have really come into your own this year in the sport. What does it feel like to be one of Naish's top up-and-coming riders?
It's an amazing feeling. If it wasn't for Naish, I probably wouldn't even stand up paddle. The boards have really made the difference for me, especially in the surf events. I'm stoked for how this last year of competing went, and I'm even more stoked for next year!
You must be getting all the girls now…is that pretty rough?
Its definitely not a bad thing.
What kind of training do you do, and who do you train with?
Lately I have been doing a lot of flat water race training and beach work outs with Connor Baxter. Connor and Kai Lenny have inspired me to get into racing and they are the ones pushing me to be the best that I can be. As well, I have really been getting into bike riding with my friend Dean Christener.
Has your dad been a major influence on you as an SUP surfer?
Definitely! He is the one who got me into this sport, and I wouldn't be anywhere without his support.
You've been all around the world on tour this year, so what's the strangest thing that happened to you on tour?
It would be hard to pick out one moment. It has been an amazing year, and being able to travel to these places with my friends make it so that there is never a dull moment.
What's the plan for next year? Racing, surfing or both?
Both for sure. The wave events will be my priority, but I am definitely looking to get some good results in the racing world too.