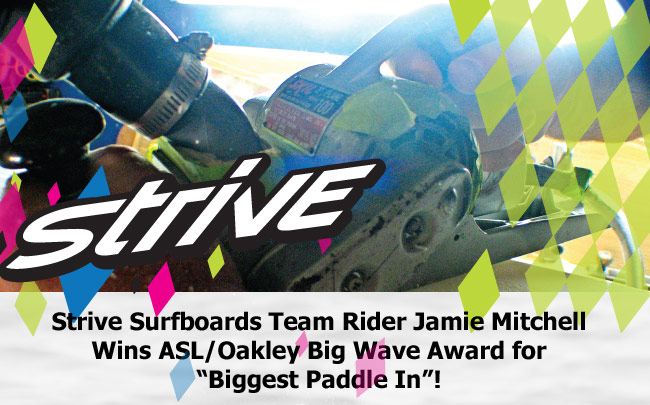 Sydney, Australia – (February 13, 2012) Strive Surfboards newest team rider, Jamie Mitchell, earns "Biggest Paddle In" award at the 2011/2012 Surfing Life's Oakley Big Wave Awards.
"That was the first time guys had really taken it on by paddling, and it was amazing to watch," said Damien Warr, winner of the overall biggest wave award and who after getting his own mind boggling wave, sat in deep water to watch Mitchell and the other paddle in nominees charge into bombs. "The day was just right, it was clean, not much wind, the sort of day we haven't had there since 2006."
When legendary waterman, Jamie Mitchell asked Jon Henderson to shape him a big wave gun for Australia, Jon wasted no time in crafting a 10' Gun suitable for waves the size of small mountains.
"I was stoked to have the opportunity to work with Jamie,"
said Henderson.
"I've been shaping and refining big wave guns for over a decade now. That 10' gun was the first board I made for Jamie. I guess it worked pretty good!"
Since the Cow Bombie session, Jon has shaped Mitchell a few short boards as well as a couple of guns that he's ridden at Waimea, Todos Santos, Mavericks, and big outer reef waves on the North Shore. "It's great to work with a guy like Jamie and get feedback to make our boards better," Jon said."He is a great guy, a great surfer and he's been a pleasure to work with."
"The first board Jon shaped me was my green & yellow 10'0" which during my first surf on it, I got the wave that I won the ASL/Oakley Biggest Paddle In Award," commented Jamie. "I got another new gun in early January which I used for the first time at Todos and I got a great wave during that session as well. The boards are working great and I look forward to tweaking them some more and fine turning them.. I'm super stoked. Thanks Jon and Strive!"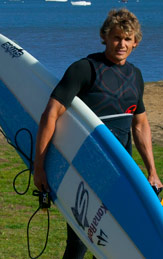 Jamie also has a Billabong XXL Monster Paddle Award entry for a bomb that he bagged at Todos Santos in early January! Best of luck to Jamie at the Billabong XXL Awards in April and we look forward to watching him push Strive Surfboards over the ledge of more horrifying waves in the future!
About Strive Surfboards: Strive Surfboards, based in Santa Cruz California, continues to be one of the fastest growing, most versatile surfboard companies around. The growth and success of the brand stems from our basic principles: PERFORMANCE, QUALITY, VALUE AND VARIETY. Founder and head shaper, Jon Henderson, started Strive Surfboards in 1999 after years as a production shaper. The driving force behind Strive continues to be the surfers they build boards for. Whether a surfer wants a board for Trestles or Rincon, Hatteras or Sebastian Inlet, Snapper or Shipsterns, Strive has the versatility and design knowledge to provide tested/proven surfboard designs for all conditions.Strive is stoked to build surfboards that unlock each rider's maximum performance potential. They are continuously committed to providing the quality and value that built Strive Surfboards from a small, family-run, dusty factory a few blocks from Steamer Lane, to a global brand, moving into the future while always staying true to their roots.
For more info: Jon Henderson info@strivesurfboards.com